Turkmen drift: President filmed burning tires at racetrack in Turkmenistan (VIDEO)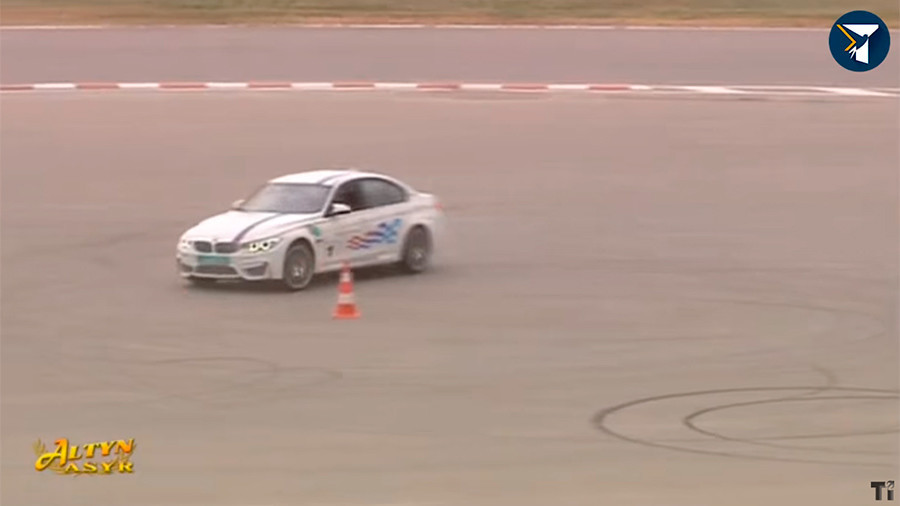 The long-serving Turkmen President Gurbanguly Berdimuhamedov has apparently decided to add extreme driving to his already long list of his talents. The Central Asian country's leader was filmed drifting a BMW M3 on a racetrack.
A video published by a local Turkmen news agency shows the 60-year-old president visiting a racing track to inspect the new rides recently purchased for the country's Interior Ministry. Known to his people as Arkadag, or 'the Protector,' Berdimuhamedov chose one of the cars, which just happened to be a high-performance sports version of the BMW 3 Series, and personally tested it on the track.
Not only did he circle the track at high speed, but also showed off his drifting skills in the mould of a true street racer.
Expertly driving fast cars is, however, far from being the Turkmen leader's only passion. In October, he was seen inspecting new buildings in Turkmenistan's capital while mounted on a magnificent steed. Berdimuhamedov was riding his favorite stallion Miras, with whom he beat the country's best jockeys in a premier horse race earlier in 2017, local media reported.
Music also appears to be another of his talents, as in January, he performed self-penned songs while strumming his guitar on prime-time national television.
The multi-talented leader also recently demonstrated that he's a more than able Commander in Chief and Defense Minister, with a recent video showing him clad in full commando uniform flinging knives at a paper target without missing even once.
Berdimuhamedov is currently serving his third term as President of Turkmenistan. He was re-elected in February after parliament amended the constitution last year, enabling him to serve unlimited terms in office.
You can share this story on social media: