Tracksuited Turkmen president inspects construction work in capital atop his horse (VIDEO)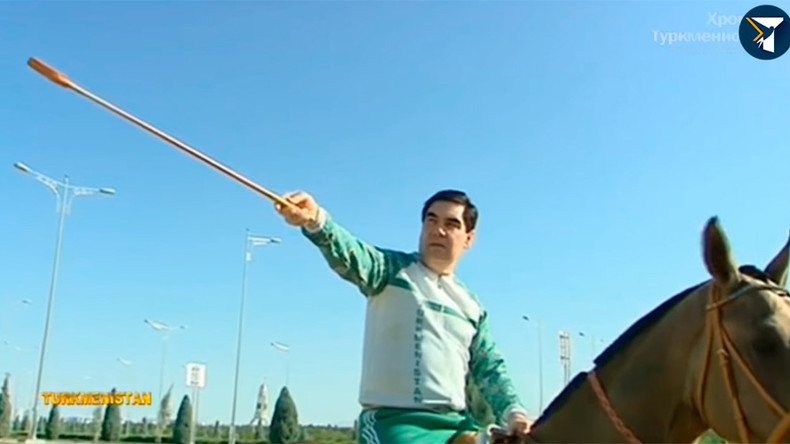 Three-term Turkmenistan President Gurbanguly Berdimuhamedov took after the nomadic Khans that once ruled the Central Asian country when he personally inspected new buildings in a strangely deserted Ashgabat while riding a magnificent steed.
Berdimuhamedov was filmed by state television as he brought his favorite stallion Miras, with whom he beat the country's best jockeys in a premier horse race earlier this year, on a trot through the capital while donning a dapper Adidas tracksuit in green, the country's national color.
The video then showed Berdimuhamedov, known to his people as Arkadag (the Protector) on horseback and towering over two officials, the city mayor and a representative of a French company contracted to erect a brand new national congress center, on foot and sweating in their dark suits in the steppe heat. Using his riding crop as a pointer, Arkadag issued a string of instructions, with his subordinates desperately scribbling notes in their pads in an attempt to keep up.
According to local media, which did not provide exact quotes, the national leader told the officials to make the buildings both modern, and in touch with tradition; to plant gardens around them, and to make sure they would be safe in case of earthquakes.
Construction and horseriding are twin passions of Berdimuhamedov, who has ordered hundreds of new gleaming white houses to be put up in the capital of the gas-rich state, and has decorated one of its central boulevards with a massive golden statue of himself on a racehorse, dressed like a medieval lord.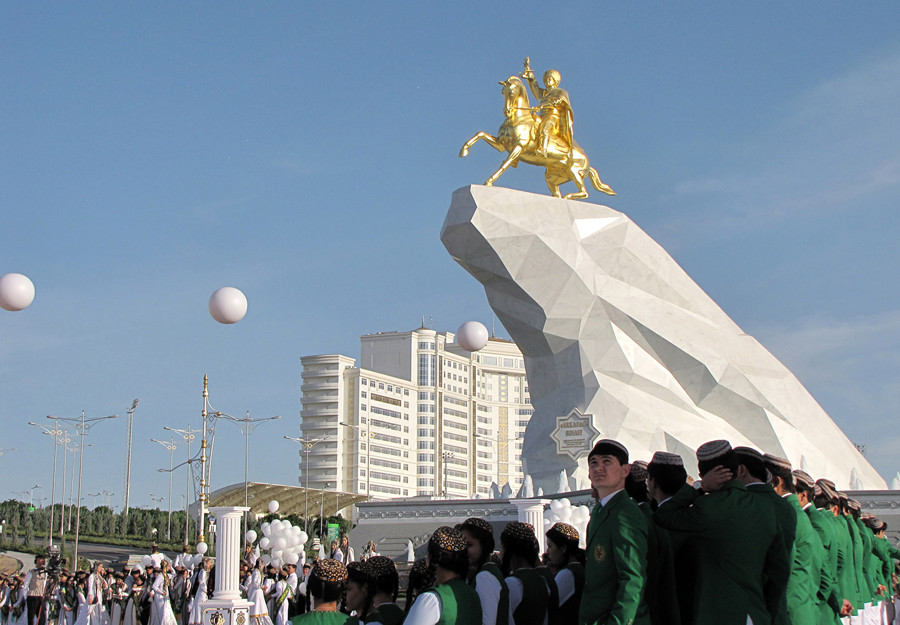 But they are not his only talents. Accompanied just by his guitar - and the claps of his audience - Arkadag has performed self-penned songs on prime time on national television.
As part of his remit as Commander in Chief and Defense Minister, Berdimuhamedov has also proved himself to be a master soldier. A recent video showed him clad in full commando uniform flinging knives at a paper target – he did not miss once – before finishing off the enemy by unloading several clips from a rifle and pistol.
Berdimuhamedov, 60, was re-elected in February, attracting 97 percent of the vote, after parliament last year amended the constitution to allow him to serve unlimited terms in office.
You can share this story on social media: