Israel wants to send landing craft to the Moon by year's end (VIDEO)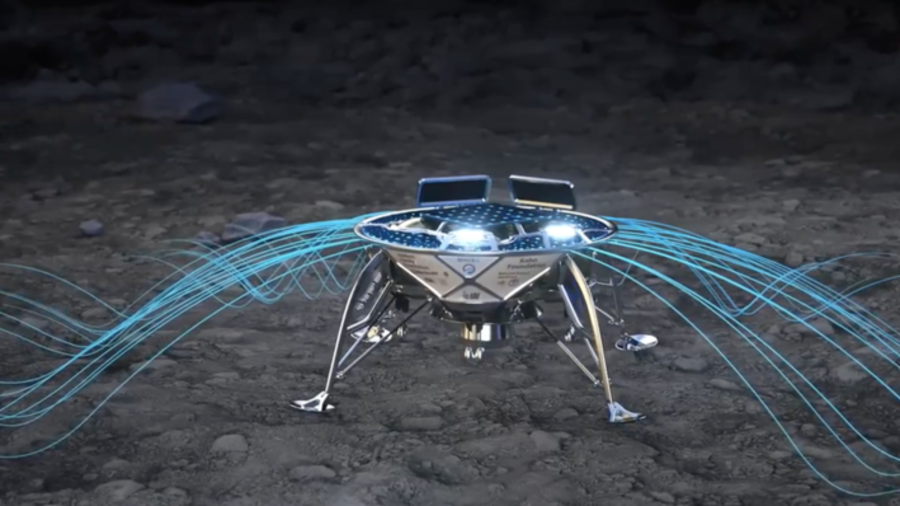 Israel aims to be the fourth country in the world to land an unmanned spacecraft on the Moon, the SpaceIL nonprofit organization announced. If the December launch goes well, the Israeli flag may grace the Moon by next February.
"We will put the Israeli flag on the Moon," said Ido Anteby, CEO of SpaceIL, during Tuesday's press conference in Tel Aviv, at the state-owned Israel Aerospace Industries (IAI), where the spacecraft and ambitious timeline for the first non-governmental moon-landing was unveiled.
The "smart spacecraft," developed by Israeli engineers, will be shipped to Cape Canaveral, Florida in November in preparation for the December launch. The 585kg (1,289lb) unmanned module, which has yet to be named, will be sent to the Earth's orbit aboard a SpaceX Falcon rocket, before heading towards the Earth's natural satellite. The moon-landing is expected to take place on February 13, 2019.
We have a launch and landing dates! December 2018- Launch, February 13 2019- First Israeli spacecraft lands on the moon! SpaceIL's moon mission is officially underway #SpaceILpic.twitter.com/f5V2E0Ue2d

— SpaceIL (@TeamSpaceIL) July 10, 2018
"Our spacecraft will be the smallest ever to land on the Moon," Anteby noted. "It's a small, smart spacecraft, it has a two meters diameter, its height is about 1.5 meters (3.2 feet), it weighs 600 kilograms (1,300 lbs), and will land on the Moon at the weight of 180 kilograms (396 lbs)."
Once positioned, the "completely autonomous" module, which looks like a round table with four legs, will take photographs and collect data on the Moon's magnetic fields before sending the information back to Israel's Weizmann Institute.
If successful, SpaceIL's $95 million project, funded largely by billionaire Morris Kahn, will become the first private enterprise endeavor to match the Moon exploration achievements of Russia, the United States and China.
"This is national history," said IAI director Yossi Weiss. "Going to the Moon was a hugely expensive government-run mission. And this is going to be the first privately run mission to the Moon."
Race me to the Moon: Google Lunar X finalists face landing test to win prestigious prize
The project, which started in 2011 as part of Google Lunar X Prize (GLXP) to land a small probe on the moon, has yet to receive IAI funding, despite the promise to provide a 10 percent contribution.
"The government should recognize that space is very important for the future," Kahn told reporters on Tuesday. "When the rocket is launched into space, we will all remember where we were when Israel landed on the moon." Once the mission is accomplished, the developer said the spacecraft will remain on the moon as a "symbol of Israeli success."
If you like this story, share it with a friend!
You can share this story on social media: