'Their hands are all over it': China behind N. Korea's condemnation of US talks, Sen. Graham says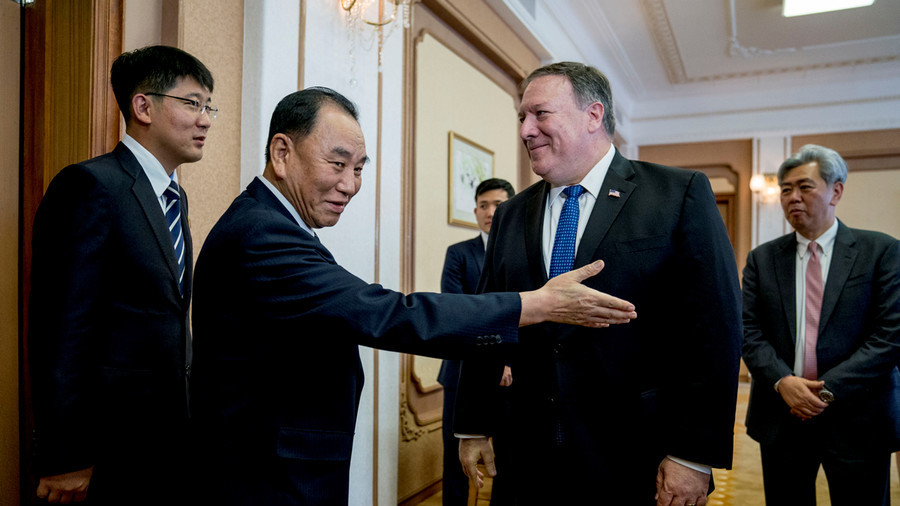 Senator Lindsey Graham (R-South Carolina) has accused Beijing of being behind Pyongyang's condemnation of recent talks with US Secretary of State Mike Pompeo, while making bizarre threats to North Korea's leadership.
Speaking on Fox News Sunday, Graham said: "I see China's hands all over this," adding that there is "no doubt" in his mind that China is "pulling the North Koreans back."
Graham cited the ongoing trade war between Washington and Beijing as the possible motivation. "We're in a fight with China."
He went on to state that the US has "more bullets than they (China) do when it comes to trade," stating that "we can hurt them more than they hurt us."
Graham then had a message for Pyongyang, referencing the fact that Kim Yong Chol, a top adviser to Kim Jong-un and a former spy chief, had asked Pompeo if he slept well during his visit to North Korea.
"And to our North Korean friends, I can't say the word friend yet. You asked Pompeo: 'Did he sleep well?' If you knew what I knew about what we could do to the leadership of North Korea, you wouldn't sleep very well," Graham said.
Exactly how you get a country to denuclearize: piss off it's major partner and threaten to covertly assassinate it's leadership. Sen Graham has repeatedly made it clear he wants war ("over there"). https://t.co/WBZywj2tOP

— Vipin Narang (@NarangVipin) July 8, 2018
The senator's comments come just one day after North Korea's official KCNA news agency released a statement from an unnamed foreign ministry spokesperson which said that "the attitude of the US was indeed regrettable" during Pompeo's talks with Pyongyang. It went on to accuse Washington of using a "gangster-like mindset" with their demands.
The statement said that those remarks were due to the fact that Washington had betrayed the spirit of last month's summit between US President Donald Trump and North Korean Leader Kim Jong-un by making unilateral demands on the complete, verifiable, and irreversible denuclearization of North Korea.
Pyongyang's statement came despite Pompeo saying that he had "many hours of productive conversations" with the North, adding that "we made progress on almost all of the central issues."
Sunday wasn't the first time the outspoken Graham has chimed in about North Korea. In March, he said that a war with North Korea would be "worth it," citing the "long-term stability and national security" that would come from it.
Think your friends would be interested? Share this story!