'Law like Third Reich': Protest against extra surveillance powers for German police (PHOTOS, VIDEOS)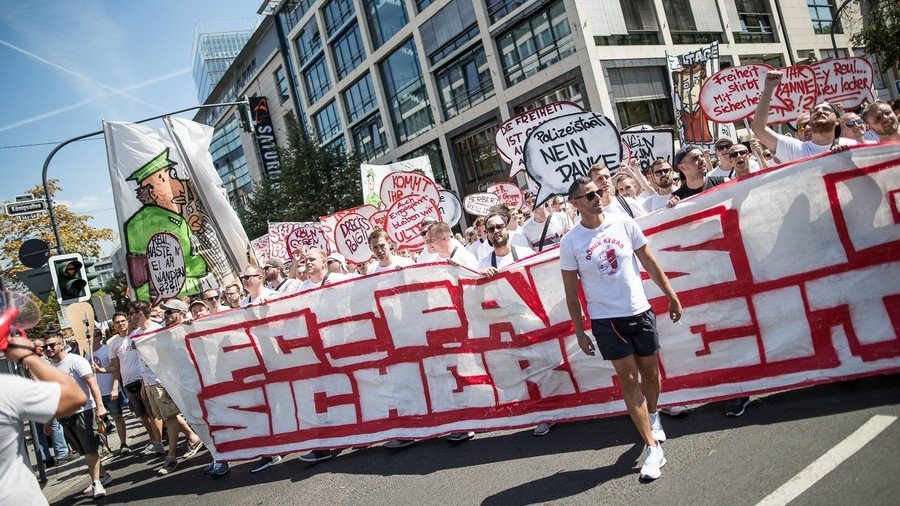 Thousands of demonstrators have hit the streets of Dusseldorf, Germany to protest against a proposed law that would expand police surveillance powers in the most populous state of North Rhine-Westphalia.
The rally saw protesters march through the city center to the state parliament to speak out against the proposed legislation, which would allow police to monitor and intercept phone calls and texts, hold suspects in jail for up to 28 days, and impose three-month preventative banning orders. It would also allow authorities to quietly and discreetly download spy software onto the smartphones and laptops of people under surveillance, which would enable them to access encrypted data from messaging services such as WhatsApp.
It would also allow for the terms "imminent danger,""imminent terrorist danger," and "potential offender" to be used as justification for police to commence surveillance. However, critics including Amnesty International say the wording is far too vague and could violate rules set out by Germany's Constitutional Court. The law would allow police to conduct stop-and-search operations without having concrete suspicion that a person has committed a crime.
A video posted on social media showed a lively atmosphere as demonstrators shouted slogans and made their voices heard against the proposed law.
Groups carried banners featuring slogans such as "No to the new police law!" and "Fighting together for democratic rights," as well as "Defend fundamental rights."
Some compared the proposed law with George Orwell's dystopian novel '1984,' while one sign joked that German citizens will soon have to post what they are eating for lunch each day.
Others drew a parallel between the legislation and the laws of Adolf Hitler's Third Reich.
Deutsche Welle journalist Felix Tamsut shared a photo of a banner which showed the NRW's coat of arms with a camera and a pair of handcuffs instead of the usual horse and River Rhine. The image was accompanied by the slogan "Freedom dies with security!"
A tweet by Berivan Aymaz, a Green politician for NRW, read: "I'm a feminist, not a terrorist," implying that the new law shouldn't treat innocent people as criminals.
Police could be seen monitoring the protest on horseback.
Organizers estimated the attendance to be around 20,000 people. Police originally put the number at around 18,000, but later downsized their estimation to 9,300, according to the Westdeutscher Rundfunk.
A protest against a similar law that would grant Bavarian police sweeping new surveillance powers – including the right to open people's mail – took place in the German state in May. Around 30,000 people showed up for that demonstration, with protesters saying the legislation would endanger their freedom and liberties.
If you like this story, share it with a friend!
You can share this story on social media: