Ukraine parliament proudly displays 1941 independence act pledging allegiance to Hitler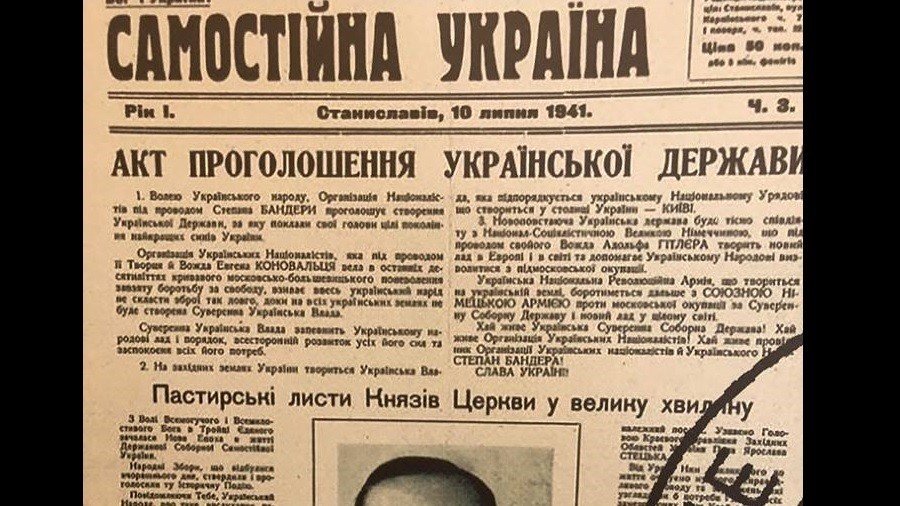 The Ukrainian parliament has hosted an exhibition dedicated to a failed attempt to declare an independent state during World War II. The text of the act declared Kiev's allegiance to the Nazi Germany.
In its struggle for national identity and unanimity to Russia, modern Ukraine is in an endless quest for traces of historic statehood. One such episode happened in June 1941 with the arrival of Nazi troops in Ukraine. The Organization of Ukrainian Nationalists (OUN), having just captured Lvov under the leadership of Nazi collaborator Stepan Bandera, declared an independent nation.
В Раде открылась выставка оккупационных газет, в которых восхваляют ГитлераВ Верховной Раде открылась выставка газет времен нацистской оккупации Украины, в одной из которых прославляется Адольф Гитлер.Экспозиция называется "Восстановление украинско... https://t.co/SfKmi2i7Cspic.twitter.com/3jJFFhv2dc

— Мировое обозрение (@ObozrenieMira) July 5, 2018
The attempt didn't last long, since the Nazis had no intention of supporting it. Bandera and other OUN leaders were arrested and World War II went on. Nevertheless, the event is considered significant in Ukraine, where Bandera is hailed as a national hero. This year Ukraine's parliament hosted an exhibition dedicated to the 77th anniversary of 'independence'.
"The act of restoration of Ukrainian state declared sovereign policy of Ukraine. The international community was informed that the Ukrainian people will not tolerate any kind of occupation, either Communist or Nazi, that it will continue fighting them to the end," the parliament's website said.
Whoever posted it probably didn't read the act, because it explicitly pledges loyalty to Nazi Germany: "The newly formed Ukrainian state will work closely with the National-Socialist Greater Germany, under the leadership of its leader Adolf Hitler which is forming a new order in Europe and the world and is helping the Ukrainian People to free itself from the Moscow occupation."
This part of the document was censored in some post-war publications of the text for obvious reasons, but organizers of the exhibition chose to display the original version printed in a WWII-era newspaper. Maybe they didn't care that in modern world praising Hitler is not considered classy. Maybe they were simply careless, considering that they also managed to misspell the title on one of the three stands comprising the exhibition.
The awkward part about a pogrom of Lvov Jews, which happened after the OUN troops entered the city, apparently was not worth mentioning.
Like this story? Share it with a friend!
You can share this story on social media: