Duterte says he 'would be happy to step down' after ouster plea
Published time: 5 Jul, 2018 11:07
Edited time: 6 Jul, 2018 09:40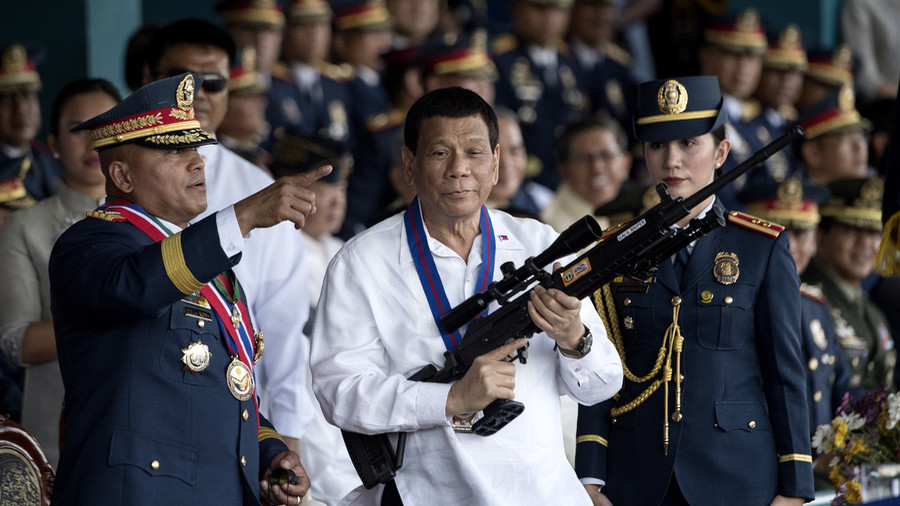 Philippines President Rodrigo Duterte does not mind giving up power and would just "go home" if the Supreme Court supports the ouster petition filed against him. However, Duterte is apparently not afraid of such outcome.
Two years in power, marked by numerous controversial and sharp statements and tough policies might already be enough for the loudmouthed Philippines' leader as appears to be okay with possible resignation.
"Never mind. I will just go home. I would be happy to step down," the president said on Wednesday at the anniversary ceremony of the Office of the Solicitor General, according to local media.
The cause for such an unusual reaction from the strongman was a petition seeking his resignation, filed by lawyer Elly Pamatong last month. Pamadong's quo warranto argues that Duterte's certificate of candidacy for the 2016 election was invalid due to a clerical mistake (the second page of the document said he was running for mayor of Pasay City instead of the presidential office).
"I have a problem because I heard the Supreme Court is ready with the decision on the quo warranto petition and I'm also due for ouster just like Sereno," the president said.
He was referring to former Supreme Court Chief Justice Maria Lourdes Sereno, who had to resign after the quo warranto petition filed against her, by Solicitor General Jose Calida, was successful.
Ironically, the author of Sereno's ouster plea was among the audience Duterte was addressing. It seems that Duterte has not much to fear about the petition. The Philippines electoral body - Commission on Elections (Comelec) – dismissed the disqualification cases against then candidate Duterte back in 2016.
Moreover, the quo warranto petition against him may not go further as Pamatong himself is not qualified to file it, according to court rules.
Like this story? Share it with a friend!