Siberia going biblical? 'Blood rain' pours down on Russian parking lot (PHOTOS)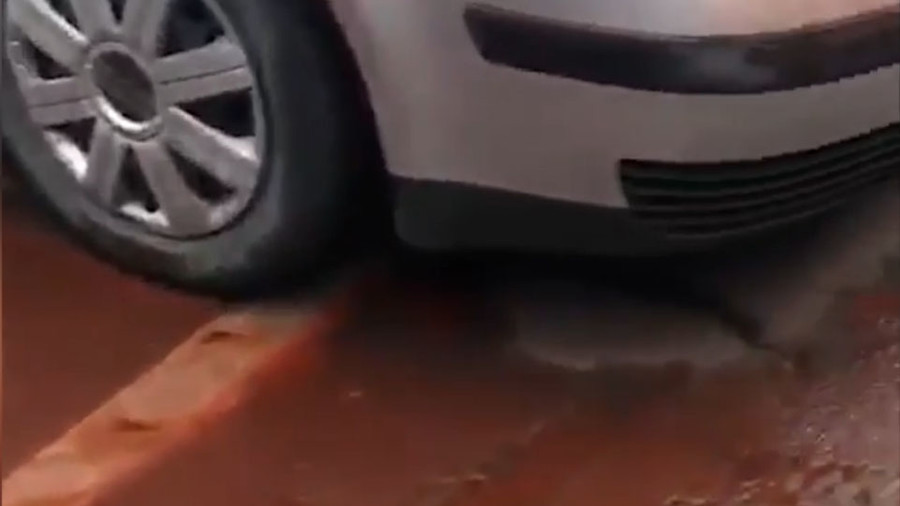 Car owners in Siberia could be forgiven for thinking a biblical plague had descended upon their city, after finding their vehicles soaked by blood-colored rain in a Norilsk parking lot.
Photos of the phenomenon showed the parking lot and cars coated in brownish-red residue from the rain. But the owner was quick to reassure everyone there's no calamity in store for the city. According to him, blood-red water was simply colored by rust from the roof of a nearby workshop. The parking lot in Siberia's major industrial center is located next to a metal plant.
Norilsk Nikel, the company that owns the Nadezhdinsk plant, said people had nothing to fear. A spokesperson for the company told TASS news agency that they conducted a probe and established the cause of the incident.
"Saturday, June 30, the roof of the first elemental sulfur shop was cleaned along with the rest of the territory. The collected reddish dust was prepared for disposal, but has not been disposed of until today. A gust of wind blew it over the parking lot while the rain caused it to fall," the spokesperson said.
READ MORE: Plagues of Siberia: Russian Arctic river mysteriously turns blood-red
The copper rain was apparently limited to the immediate area around the factory.
You can share this story on social media: