Bridge collapse in Mumbai, India, halts train traffic, injures 6 (PHOTOS)
Published time: 3 Jul, 2018 04:01
Edited time: 3 Jul, 2018 08:26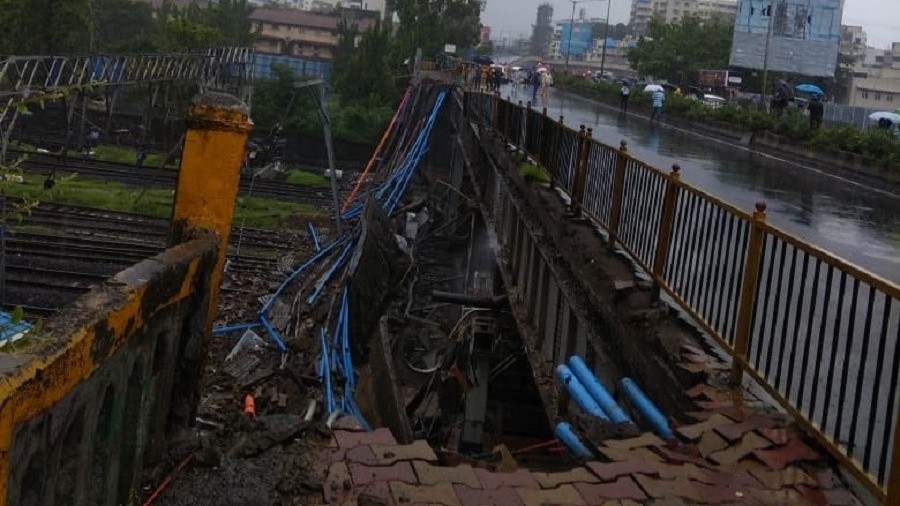 Part of a bridge over a railway in Mumbai, India, has collapsed in a heavy rain that has inundated the area. Traffic has been halted both beneath and on the bridge. Six people have reportedly been injured.
The collapse occurred at about 7am local time (1:30 GMT). Images on social media show a sizeable portion of the overpass bridge broken away and fallen on the rail tracks, taking some wires and a part of the roof of the station down with it. Mumbai police says the fire department, railroad staff and other services are on site, and local media report that the possibility of people being trapped under the debris is being investigated.
Part of Gokhale Bridge, connecting Andheri East to West has collapsed affecting the overhead wires too.Trains on the western line are affected.BMC,Fire Brigade as well as RPF Staff & Officers are deputed on spot for support.Traffic above & below the bridge is stopped for now pic.twitter.com/LMcKmwyDCh

— Mumbai Police (@MumbaiPolice) July 3, 2018
At least six people were injured in the collapse and have been taken to hospital, TOI Mumbai reported. Two people have been pulled out alive from under the debris by rescuers, ANI reported.
The bridge collapsed due to heavy rainfall that has been non-stop for over 18 hours. Some parts of the city have been hit with 90mm (3.5in) of rain, with the Indian Meteorological Department expecting it to continue through the rest of the week.
The damaged Gokhale Bridge is a major local transport artery, connecting the eastern and western portions of the Andheri neighborhood of Mumbai. Following the collapse, Mumbai police got busy sorting out possible traffic congestion by suggesting alternative routes to those whose commute was interrupted by the incident.