Hack avoids chop: Reporter risks decapitation when promoting army helicopters (VIDEO)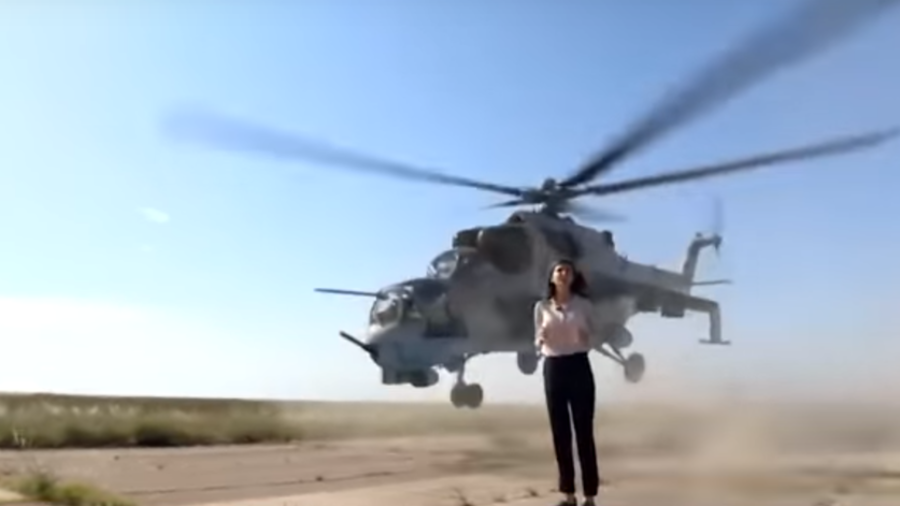 A fearless –if somewhat reckless– journalist narrowly avoided having her head chopped off as she was presenting a promotional report next to a swarm of army helicopters in Azerbaijan.
A reporter with the Russia-based outlet The Caucasus Post was filming a news segment praising the helicopter pilots as the low-flying Mi-24s buzzed overhead. The recognizable Soviet-designed gunships were due to take part in the celebration of the 100th anniversary of the Azerbaijani Armed Forces.
In the heart-stopping footage the journalist casually presents her report from the runway while several choppers (and their slicing blades) fly dangerously close to her head. One flyby appears so close you'd think the operator would be shouting for her to duck.
Luckily, the only thing that was apparently harmed in the video was the reporter's hairdo. The outlet capitalized on the 'incident' by heading it with a banner that said "Madness or courage of journalist and operator."
Headless Pompeii skeleton: Man decapitated while fleeing eruption, say archaeologists (VIDEO)
On Wednesday, a parade of about 4,000 cadets, border guards and interior forces marched through Baku's Azadliq Square. CBC reported it was also the first demonstration of US-made helicopters purchased by the Azerbaijani army, which, for one reason or another, didn't make it to the promotional report.
Think your friends would be interested? Share this story!
You can share this story on social media: