French Butchers plead for government's protection against 'terrorist' vegans
Published time: 26 Jun, 2018 14:14
Edited time: 27 Jun, 2018 07:36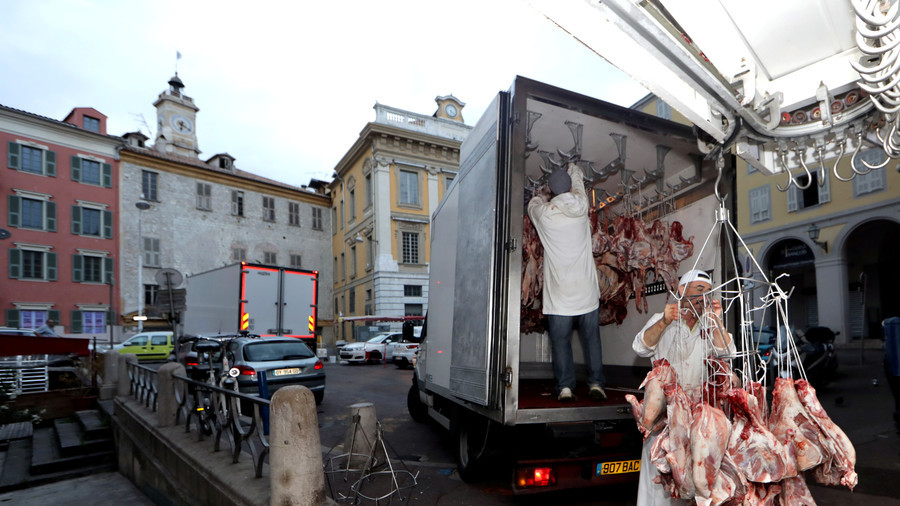 Butchers in France have urged the government to protect them against intimidating and violent vegan campaigners who have been increasingly turning their rhetoric into action.
In an open letter published on Facebook, the President of the Confederation Française de la Boucherie, Boucherie-Charcuterie, Traiteurs (CFBCT), made a public appeal to Interior Minister Gerard Collomb to protect butchers in view of increasing danger of vegan "terrorism".
"For the past few months, the 18,000 artisan butchers in our country are worried about the consequences of the increased media exposure of the vegan lifestyle," CFBCT president, Jean-François Guihard said in the open letter.
He urged the Interior Minister to address the problem of "disinformation", which prompted vegan activists to channel their antagonism into actual violence.
Although not new, the dispute between meat eaters/butchers and vegans who question the morality of the former seem to be heating up to dangerous levels. Several butcher shops were sprinkled with fake blood and some fish shops vandalized in April.
An investigation has been launched into facebook comments made by a vegan activist who she had "zero compassion" for a butcher who was killed in a recent terrorist attack in the southwestern part of the country in March.
President of the Confederation argued such menaces should not be underestimated and could be even attributed to "terrorism" with an a goal of forcing a part of the renowned culinary French culture disappear altogether.
Guihard said that vegans are so eager to convert others that they "impose their lifestyle on the immense majority of people".
Thus the Confederation of the Butchers pleaded for the "support of the entire government so that the physical, verbal and moral violence stops as soon as possible."
Think your friends would be interested? Share this story!