Facebook bans photographer who went 'off to shoot some Christians' for work
Published time: 25 Jun, 2018 17:08
Edited time: 6 Aug, 2018 09:36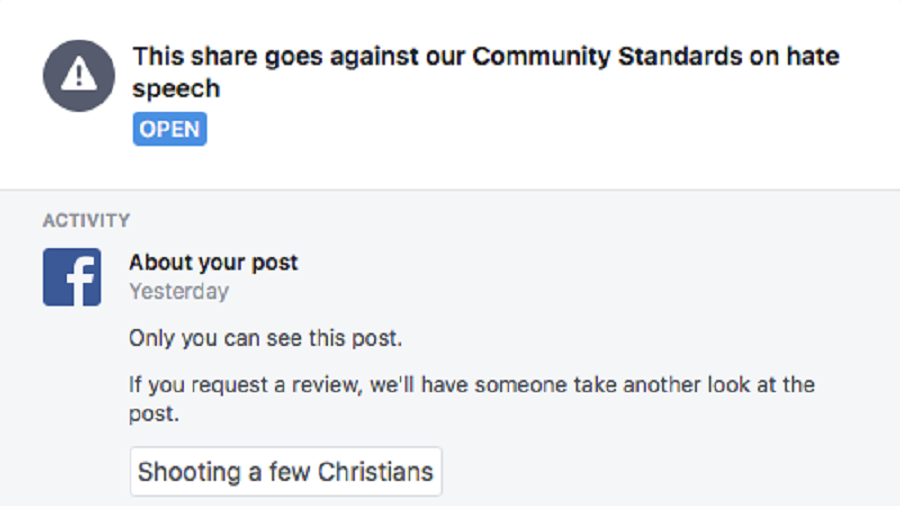 A London photographer was banned from Facebook for saying he was going to be "shooting a few Christians." The term for snapping some pictures was enough to trigger the social network's sensitive algorithm.
Nicolas Chinardet announced his plans to take photographs at a London church in a Facebook post on Sunday and within half an hour, was banned from the social media site for the next 24 hours.
Chinardet confirmed the ban to RT, explaining he found out about it when Facebook logged him out of his account and then told him he had been banned.
I've just been blocked from @facebook for 24hrs for posting that I was "shooting a few Christians".... I'm a fucking photographer... no way to appeal or explain.

— Nicolas Chinardet (@zefrog) June 24, 2018
"When I posted this, I was simply being tongue-cheek. It never crossed my mind that it would be taken seriously by a bot somewhere," Chinardet told RT. "I'm quite amused by the whole debacle but I also think that implementing algorithms in relation to human behavior as seems to be the trend is likely to lead to more and more such misunderstanding."
He also noted that although the phrasing was enough to see the site slap him with a hasty ban, it did not report the issue further, despite him checking in at a church. "It feels like they are just covering themselves," he said.
READ MORE: Republicans challenge Facebook & Twitter on anti-conservative bias
This isn't the first time the photographer has found himself in Facebook's bad books. He previously had one of his pages for club photography deleted because its images were deemed graphic.
Facebook has long been accused of being overly sensitive when it comes to banning accounts and censoring images. It was heavily criticized when it censored the famous 'Napalm Girl' Vietnam photograph in 2016, and has been accused of bias when it comes to what it deems hate speech and fake news.
Like this story? Share it with a friend!