France has been 'colonized' by US, Brussels & migrants – MP & ex-presidential candidate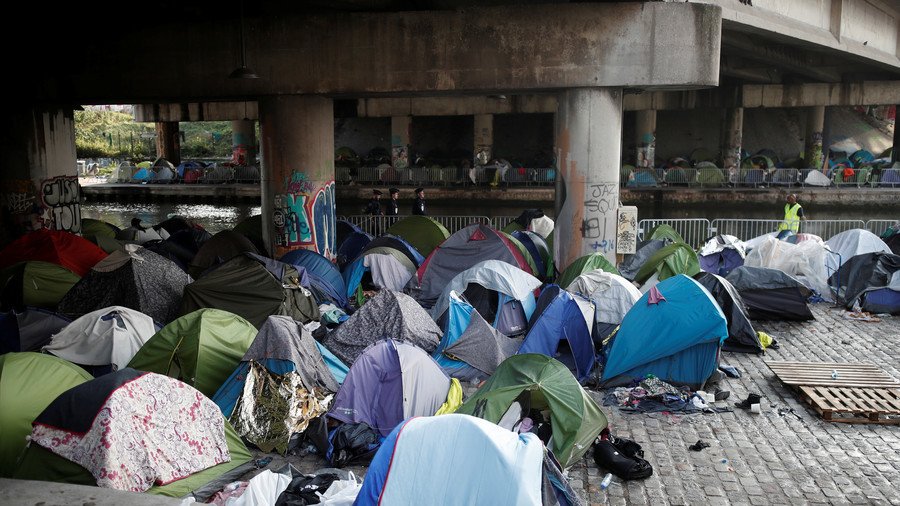 France has been "colonized" by migrants, as well as by the US, China, Germany, and the European Union, a French euroskeptic politician has warned, stating that he doesn't want his country to "disappear."
"I think that our country is colonized...economically by the Americans and the Chinese, politically by Brussels, the European Union and Germany," Nicolas Dupont-Aignan said during an interview on France's 'On the Couch' program.
Dupont-Aignan, a euroskeptic who founded his party France Arise, could have been right-wing leader Marine Le Pen's pick for prime minister if she had made it far enough in last year's presidential election. He also participated in the 2012 presidential elections. The politician has long been a critic of France's immigration policies and strategy to combat terrorism, stating in 2016 that Paris can't defeat terrorism if it stays "obedient" to Berlin and Washington.
He went on to make a rather controversial statement about migrants, saying they are "religiously" colonizing the country.
The remark comes at a time when France is in a row with Italy over how to handle migrants pouring into Europe. On Saturday, Italy's Deputy Prime Minister Luigi Di Maio warned that "arrogant" Macron risks becoming Italy's top "enemy" on the topic of migration, noting that France is pushing back migrants at the French-Italian border near Ventimiglia.
The comment came amid strained relations between the two countries over the past few weeks, following Rome's decision to close its ports to the migrant rescue ship 'Aquarius,' which had 629 people on board.
France has long struggled to handle migrants in the country, and it has often been criticized for its actions related to the situation. Paris ordered the dismantling of the notorious 'Jungle' migrant camp in Calais in 2016, which led to an influx of migrants in other parts of the country, including Paris.
Authorities in the French capital later came under fire after a report emerged that officers had been taking the blankets of migrants in below freezing temperatures. In November, a French policeman received a six-month jail sentence for slapping a migrant near Calais.
Think your friends would be interested? Share this story!
You can share this story on social media: