'Manu' or 'Mr President'? Macron causes stir posing with dancers at Elysee Palace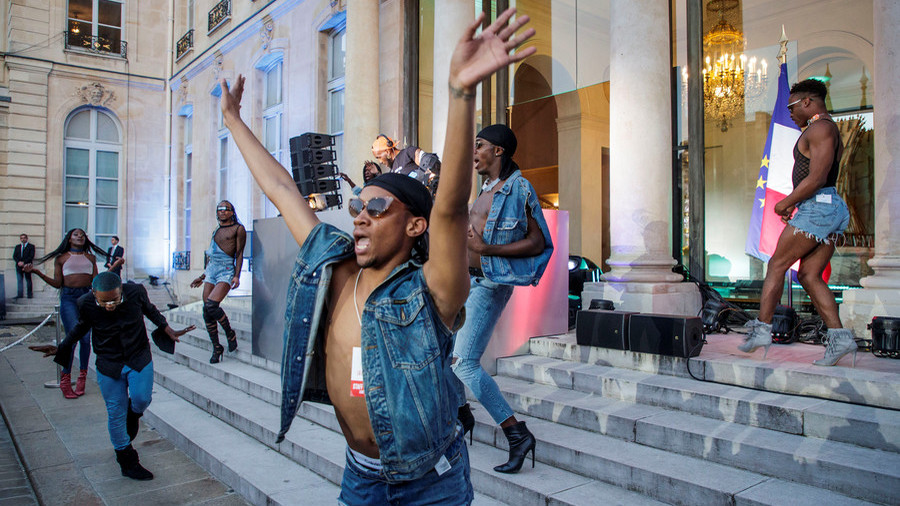 Emmanuel Macron has caused a stir by posing for a picture with scantily clad dancers at the Elysee Palace, days after chiding a schoolboy who called him "Manu," telling him to choose between "Mr President" and "sir."
As France was enjoying the annual Day of Music festival, during which hundreds of free musical events take place across the country, the Elysee Palace held its own electronic music show. Its announcement was made to much fanfare and over 1,500 free tickets were handed out.
However, it was the performance of DJ Kiddy Smile and his troupe of dancers that attracted the most attention. The artist, who is an emerging LGBT icon, took to the stage wearing a provocative shirt, while his dancers were voguing on the palace steps. Macron posed for a photograph with the scantily clad crew afterwards.
Many comments on Twitter were positive, but Macron's opponents jumped at the chance to savage the president.
"These steps have seen De Gaulle, Kennedy, Trump, and even Putin. And then there was that…" said Jordan Bardella, a spokesman for the right-wing National Rally party, formerly known as the National Front.
"Now we understand why his campaign said 'French culture does not exist,'" said Yves d'Amecourt, a regional politician.
Macron's critics saw the move as a slip-up for a president who prides himself on ruling from above – cool and magnanimous – and who called populism "leprosy."
"Not sure if this is a good vaccine against 'populist leprosy," tweeted journalist Gabrielle Cluzel. "It's more of a catalyst."
"Put on stilettos and learn how to twerk. Then perhaps you will be received at the Elysee Palace," read another tweet, while someone else asked: "Is he still Mr President of the Republic in this context or 'How are you Manu?'"
The comment referred to an incident just days earlier when Macron scolded a schoolboy who addressed him as "Manu" and hummed the socialist anthem 'The Internationale.'
"No, you can't do that," Macron snapped back. "You call me 'Mr President' or 'sir.'" Macron then gave the youngster a dressing down over his socialist aspirations.
"The day you want to start a revolution, you study first in order to obtain a degree and feed yourself, okay? And then you can lecture others," he said.
"And after that he complains that he is not respected by young people!" read another comment on Twitter.
Kiddy Smile later posted a comment on Facebook saying that he knows "what the Elysee represents in terms of oppression and history for QPOC (queer people of color) and the LGBTQIA+ community as well as the repression of migrants," but he strongly believes in the "hijacking of power" from within.
He hijacked a bit of Macron's power, for sure.
Like this story? Share it with a friend!
You can share this story on social media: