Circle closed: Merkel, Macron want EU border states to deal with refugees after quota system failure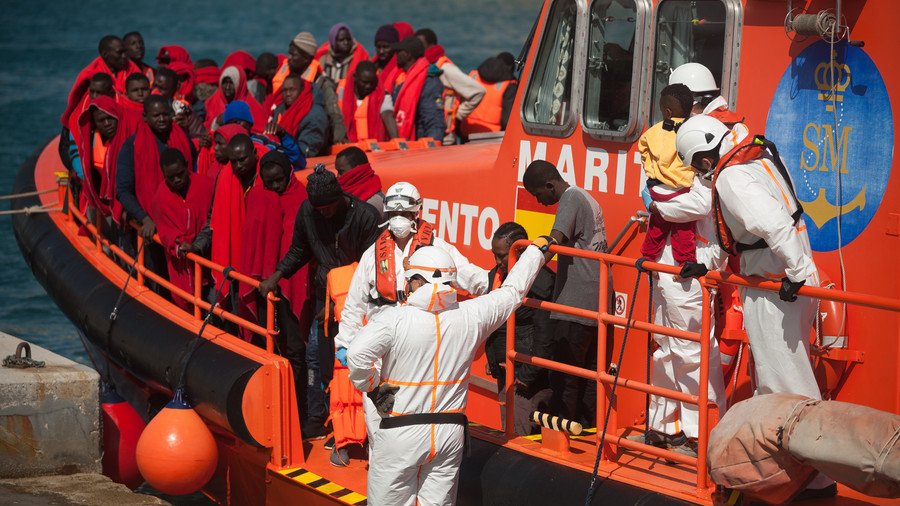 With no end in sight to the EU refugee crisis, Berlin and Paris look to put the burden of dealing with asylum seekers on the countries where they first register. The seeming return to 'old rules' is poised to split Europe further.
During their meeting ahead of the EU summit, German Chancellor Angela Merkel and French President Emmanuel Macron pledged to "jointly and resolutely tackle" what they euphemistically called "secondary movements inside the EU." An elusive wording used in the so-called Meseberg Declaration adopted by the two leaders effectively means one thing: Macron and Merkel want all the newly arrived asylum seekers and migrants to stay in the EU countries where they were first registered while their cases are being processed. This would leave the EU southern member states to deal with the new arrivals alone.
The problem, however, is that the same rules embodied in what is known as the ill-fated EU Dublin Regulation already proved to be dysfunctional at the height of the 2015 refugee crisis.
"It is a de-facto return to the Dublin Agreement, which was disavowed by Merkel herself when she opened Germany's borders for refugees back in 2015," Evgenia Pimenova, an expert at the International Studies Center of the Moscow State Institute of International Relations (MGIMO), told RT.
It seems, however, that the leaders of Europe's two powerhouses do not have much of a choice in a situation when they face a growing opposition to the old migration policies both at home and at the European level. This apparent attempt to save face and gain some political points without giving up on their principled stance on immigration issues, however, might lead Berlin and Paris to a situation in which they only sow seeds of further discord in a bloc, which is already beset with political differences.
"It is not a revolution" in a field of migration policy, Alain Corvez, a former advisor to the French Defense and Interior Ministries, told RT. "It is only a tactical decision [aimed at dealing] with the current threats" and "pressure" that Merkel and Macron and facing "in their own countries."
Right-wing and Eurosceptic governments have come to power not only in Eastern Europe but also in such countries as Italy and Austria. Some of these new governments have also grown bold in their defiance of Brussels' and Berlin's political line in the field of immigration policy.
"The situation that Merkel found herself in is absolutely unprecedented. She faces opposition almost on all fronts," Pimenova told RT. She went on to say that "a potential collapse of the German government, unlikely as it may seem, would mean an unprecedented political crisis for Germany." The chancellor definitely does not want such an outcome to become her legacy, the expert added.
Merkel's centrists indeed suffered historically poor results in the latest parliamentary elections, while the right-wing anti-immigrant Alternative for Germany (AfD) formed the biggest opposition party in parliament. The situation for the Chancellor became even more complicated due to an internal rift in her so painstakingly formed coalition.
Germany's Interior Minister and Merkel's once close ally, Horst Seehofer, is now so determined to stem the inflow of new arrivals into his country that he vowed to reject certain categories of asylum seekers in a unilateral move. He has given the chancellor two weeks to find a solution.
The German chancellor, however, still does not want to admit that her 'open door' policy was a mistake. Instead, she is seeking to conceal her policy errors behind yet another "European decision," Pimenova said.
The previous attempt to impose Berlin's view on migration on other European countries has apparently ended up in failure. A highly controversial mandatory quota system, which was so adamantly championed by Germany, has brought no significant results but faced stiff opposition from Eastern European countries, such as Poland and Hungary. By June 2018, only 30,000 refugees out of the planned 160,000 were redistributed between European countries.
The declaration that Merkel adopted together with Macron looks like an attempt to mitigate the mounting pressure she faces at home and appease both her coalition partners and the voters without changing her attitude on refugee policy in general, which she still refuses to back down on.
"The world still does not have an experience of resolving such large-scale migration crises," Pimenova told RT, adding that "there is no universal approach" that Europe could use. One cannot solve the decades-long problem in a matter of weeks, after all, she added.
Think your friends would be interested? Share this story!
You can share this story on social media: