Deadline for Merkel? Germany to start kicking out migrants if no deal with EU – interior minister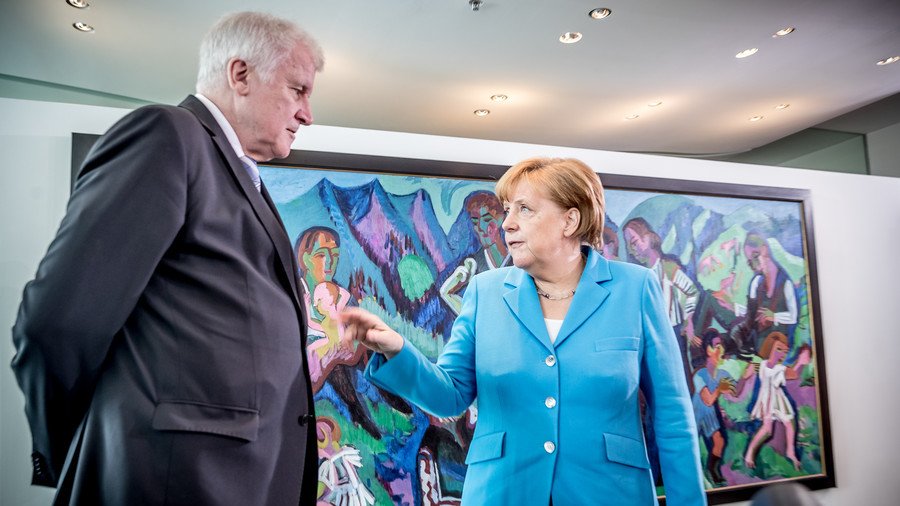 German police will start unilaterally turning away migrants who applied for asylum in a different state if Chancellor Angela Merkel fails to negotiate an EU-wide solution, Interior Minister Horst Seehofer said.
Speaking at a Monday briefing, the key Merkel ally and Christian Social Union (CSU) party head said that the chancellor effectively approved almost all provisions of his so-called "master plan." He also wished Merkel "much luck" in her negotiations with other European nations, expected to take place at the European Council on June 28-29, and said his party supports "any European decision" aimed at resolving the migration problem.
However, Seehofer also showed determination to go it alone, saying that if Merkel's talks ultimately fail, then they'll be compelled to "act on a national basis."
"We stick to our position that should the immediate rejection at the border not be possible, I would immediately order the police that people who either have prohibition of entry or prohibition of stay should be immediately turned away at the border," he said. The new measures would be applied particularly to migrants, who either registered or applied for asylum in another EU country, the interior minister said.
The issue of illegal migration has been a stumbling block between Bavaria's CSU and Merkel's Christian Democratic Union (CDU). The wedge between the allies apparently prompted Merkel and Seehofer to speak at separate press conferences.
Commenting on the supposed deadline for Merkel to negotiate an EU-wide solution, Seehofer said that "the whole issue is not about these 14 days but about fundamental differences" between the leadership of the two sister parties. "We want a national solution if a European one is not found," Seehofer said, adding that "the CDU or at least its leaders do not want" it.
In turn, Merkel praised Seehofer's "master-plan" by calling the document "a good foundation" for resolving the existing migration policy issues. She then added that CDU still wants to work with their Bavarian allies and she hopes that the two parties "will succeed together."
But the chancellor contradicted her ally on steps that should be taken in Germany, saying that "there will be no automatism" in rejecting asylum seekers following EU negotiations.
"A country located at the heart of Europe" cannot just reject asylum seekers at its borders in a unilateral move as it would provoke "a negative domino effect," Merkel warned as she explained that she plans to reach bilateral agreements with other EU states before toughening Germany's migration policy. Merkel said she would first present the results of the talks to her own party on July 1 and then discuss them with her Bavarian allies.
Even though both Merkel and Seehofer spoke of reaching some sort of a mutually-acceptable agreement and gave assurances of mutual support for "better management of migration and reduction of the migrants' inflow," their views on the future of the German migration policy still appeared to be conspicuously different. Merkel believes it is "in Germany's interest" to reach an agreement on managing migration "in close partnership with our European neighbors."
Seehofer's master plan has been a source of discord between the coalition partners for quite some time. The document, which has not yet been revealed to the public, reportedly envisages turning back certain categories of asylum seekers right at the German border as well as reduction of benefits for asylum seekers living in Germany. Earlier, Merkel argued against the current proposal by saying Berlin can't unilaterally shut its borders.
On Saturday, Seehofer reportedly told his closest aides he "cannot work with this woman anymore" in what seemed to be a high point of the row within the coalition. On Sunday, he said, however, that no one wants a break-up of Merkel's ruling coalition.
You can share this story on social media: