US slamming door on UNHRC shows weakness, not strength – Russian senator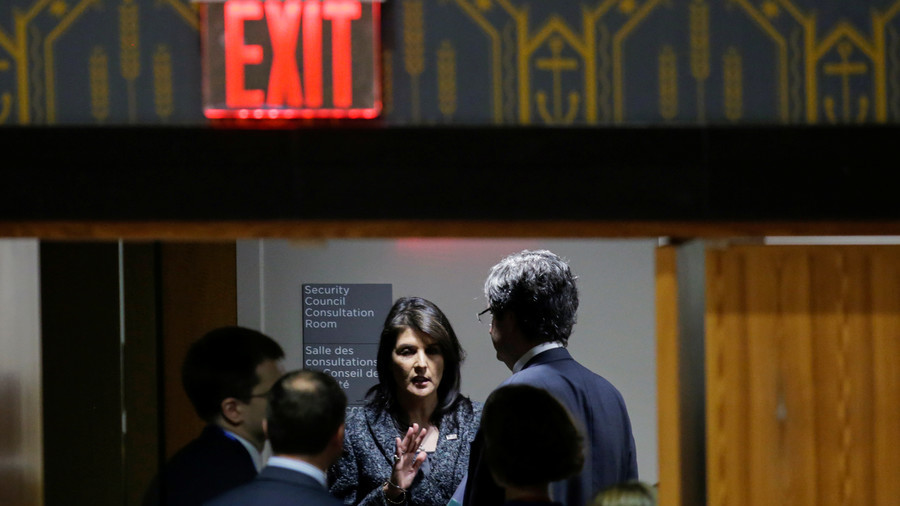 The US decision to quit the UN Human Rights Council demonstrates its weak position, Russian Senator Konstantin Kosachev has said. The official suggested that Washington always slams doors when it fails to get its way.
Secretary of State Mike Pompeo and US envoy to the UN Nikki Haley announced the country's withdrawal on Tuesday, calling the council a "hypocritical and self-serving organization that makes a mockery of human rights."
Washington's decision demonstrates political weakness, according to the head of Russia's Upper House Committee for Foreign Relations, Konstantin Kosachev.
"Whatever was behind this decision… it shows not strength, but weakness on the part of Washington. The strong ones, confident in their position, continue to prove themselves right in any conditions, even when they're in a minority," the senator wrote on Facebook on Wednesday.
However, Kosachev said that the US move was not surprising, suggesting that it was usual for Washington to turn its back on those who do not support its rhetoric. Instead of standing up for its position, the US prefers to form "applauding" coalitions and, where this fails, "slamming the door" is the only option, he said, referring to a similar decision in relation to UNESCO.
Russian Foreign Ministry spokesperson Maria Zakharova called the move by Washington "a mistake," and said it was a "powerful blow" to its own reputation that showed "neglect" for all UN bodies. She also condemned the US for "using its powerful resource exclusively for pushing its interests."
Meanwhile, the Russian mission to the UN also stated that the international body could not serve only one country's interests, and suggested that the US is trying to blame the whole world for its failures.
"The US apparently would like to turn the council into an obedient tool to promote its interests and punish objectionable countries. Against this background, the US attempts to blame the council's work for politicization and almost the whole world, including its traditional allies, for the failure of its initiative, are cynical," read a statement from the permanent Russian mission to the UN.
The UN Human Rights Council is the second organization that the US has left over concerns about alleged "anti-Israel bias." Last year, Washington withdrew from UNESCO, the UN's cultural body, citing a distortion of history and bias against Tel Aviv. The US had previously stopped financing the body after it moved to admit the Palestinian Authority as a member in 2011.
Like this story? Share it with a friend!