Power of thought and flick of a finger: MIT creates mind & gesture controlled robot (VIDEO)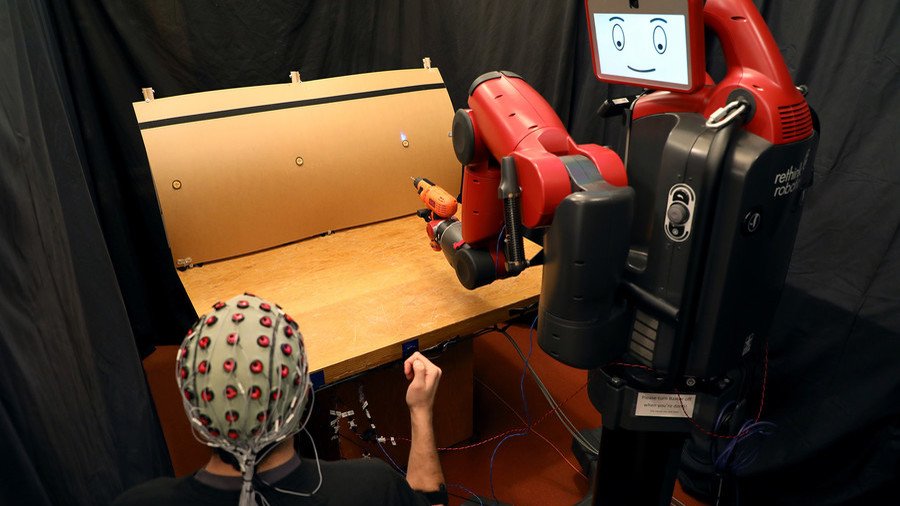 Learning from your mistakes takes a while, even if you're a machine. But new MIT robots can now understand their mistakes and correct them by reading the human mind and deciphering gestures.
Harnessing the power of thought, an MIT laboratory has developed brand-new technology that operates on a mixture of muscle and brain signals. It uses a Computer Science and Artificial Intelligence Laboratory (CSAIL) system to make controlling robots more intuitive. The system recognizes both hand gestures and brainwaves to 'feel' when you notice an erroneous action, and to allow a human to instantly correct it with the flick of a finger.
The research, supervised by CSAIL Director Daniela Rus, will be presented at the Robotics: Science and Systems (RSS) conference in Pittsburgh next week. A humanoid robot called Baxter, manufactured by Boston-based Rethink Robotics, was used to demonstrate the advantages of the new hybrid system.
Control over the robot resembles "communicating with another person," according to PhD candidate Joseph DelPreto, a lead author on a paper about the project. An operator has a series of electrodes placed on their scalp and forearm, as the system uses electroencephalography (EEG) for brain activity and electromyography (EMG) for muscle activity. When the system notices so-called "error-related potentials," which are naturally produced by a human brain, it stops so the user can correct it.
Using just EEG can be difficult as specific and hard training is necessary to make a machine read brain signals. The advantage of the CSAIL system is that such efforts are not required anymore, as its the accuracy is almost perfect – up to 97 percent, researchers say.
"What's great about this approach is that there's no need to train users to think in a prescribed way," says DelPreto. "The machine adapts to you, and not the other way around."
The hybrid system opens up a wide range of new possibilities, the researchers believe. The team says that it could be useful in construction and would also be helpful for the elderly, or workers with language disorders or limited mobility.
If you like this story, share it with a friend!
You can share this story on social media: