Two killed & 4 injured in mass shooting in Malmo, Sweden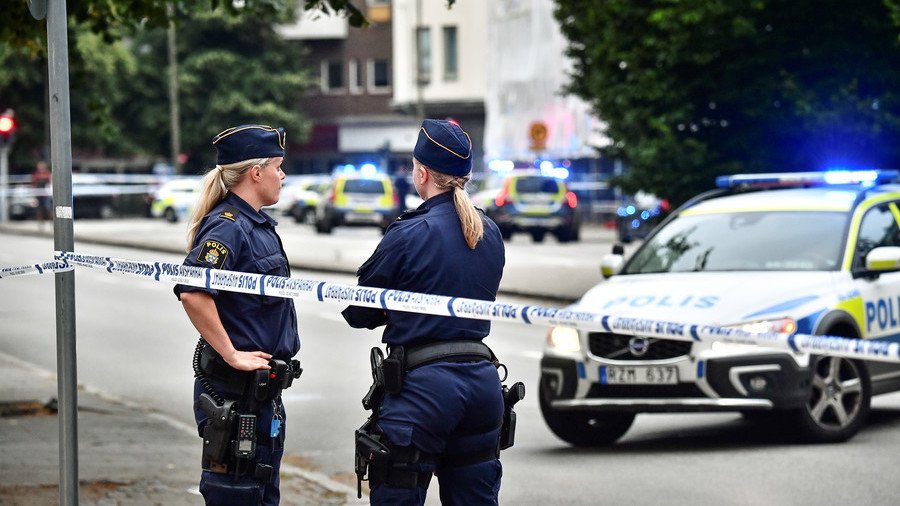 Two young men were killed and four people were wounded in a shooting in the Swedish city of Malmo. Up to 20 rounds were fired, according to witnesses, and police are still looking for the perpetrators.
The attack happened around 8pm local time (6pm GMT) in the Drottninggatan area of the city, which has been described as "quiet" place by local media. Two of the six people wounded in the shooting – men aged 18 and 29 – later succumbed to their injuries in hospital, police said in a statement.
Witnesses told the Aftonbladet newspaper that they heard what sounded like up to 20 gunshots at around 6pm in the center of the city. The paper also reported that the shots had been fired outside an Internet cafe close to a police station, and that officers were therefore quick to arrive at the scene.
Police are currently investigating the attack. Investigators suggest that automatic weapons were used, and are searching for a dark car that was seen leaving the scene at high speed, Aftonbladet reports. At least three of the wounded were previously known to police in relation to criminal activity, according to Sydsvenskan daily newspaper.
Malmo has seen a wave of crime in recent years, which has included shooting attacks. It has "significant" potential for violence, Chief of the Swedish National Police Dan Eliasson said in January, as cited by The Local.
Last year, the country saw more than 300 confirmed shooting incidents, which left 41 people dead and 135 injured.
"Things move fast when criminal networks start shooting each other. We do not want to see that. We want to stop it," said Eliasson.
The police lacks adequate resources to combat the scourge of crime that is sweeping parts of the country, Swedish Democrats party member Nima Gholam Ali Pour told RT. He also said that the influx of migrants has badly affected the social and criminal situation in the country.
"We have new kinds of criminals in Sweden that are much rougher, and the Swedish police are not trained enough, they don't have the equipment or the resources to do their job adequately," he said.
Think your friends would be interested? Share this story!
You can share this story on social media: