Fake news: Russia dog execution image actually shot in Pakistan (PHOTO)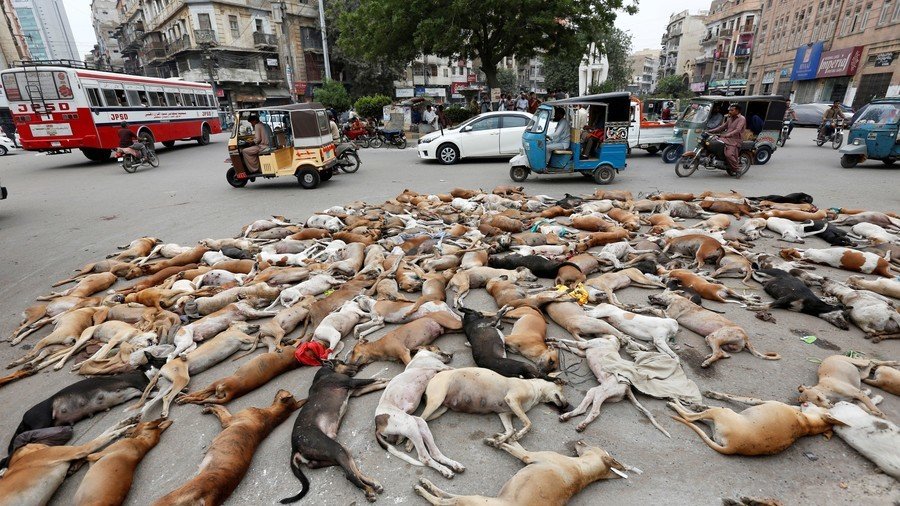 A picture circulating online of an alleged dog cull in Russia actually depicts Pakistan, during an attempt to reduce the number of stray animals on the streets of Karachi in 2016.
Ahead of the World Cup there were fears that Russia would try to exterminate stray dogs in time for the arrival of fans. However, Deputy Prime Minister Vitaly Mutko said that the animals would be captured and placed in shelters.
READ MORE: 'Cruelty': People outraged as Karachi authorities poison at least 700 stray dogs
A Twitter user has now posted an image that purports to show scores of dogs lying dead in a street somewhere in Russia. But while the picture does show more than 50 dead dogs, it was actually taken two years ago in Pakistan.
Gross example of disinformation! Sickening effort!

— Georginamcdougall (@Georgiespain) June 18, 2018
Another Twitter user by the name of Fabio also hit out at use of the Pakistan picture which was used in a Reuters article in 2016. The story in question revealed how more than 700 dogs in Karachi had been tracked and poisoned over the course of a few days.
Dude, I don't know if Russia would or wouldn't do something like this, but this picture is from Pakistan (source Reuters) pic.twitter.com/a55gUhy9TC

— Fabio #ContinuityRemain 🇪🇺🇮🇹🇬🇧 (@fabiocosenza76) June 16, 2018
"The picture you used is indeed the illustration of a crime in my honest opinion, but it is not from Russia," they said.
Like this story? Share it with a friend!
You can share this story on social media: