Deadly quake interrupts traffic, wrecks houses & causes blackout in Japan's Osaka area (VIDEOS)
Published time: 18 Jun, 2018 05:00
Edited time: 18 Jun, 2018 06:48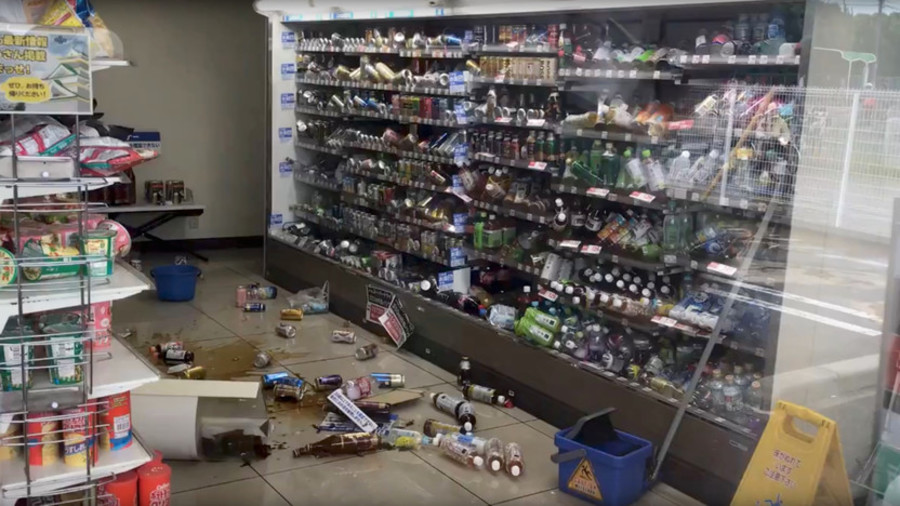 As well as killing at least three people and injuring hundreds, a powerful earthquake in the Osaka region has briefly brought chaos to local transportation systems and caused substantial damage to housing and infrastructure.
The earthquake, measuring a magnitude 6.1, left a trail of destruction in its wake after striking the northern part of Osaka Prefecture during a Monday morning rush hour. At least three victims were crushed to death, including a nine-year-old girl, who died after being struck by a collapsing wall. Another man, 85, died from a falling bookshelf, while another 80-year-old passed away after being struck by part of a wall.
READ MORE: At least 3 killed, 200+ injured after 6.1 quake strikes Osaka, Japan
The jolts shattered windows, knocked over walls, and resulted in several residential building fires. The fury of nature also cracked roads and broke water pipes, flooding streets and leaving homes without water.
Gas supply to 108,000 households was cut off by Osaka Gas following the quake which also brought a halt to train traffic in the area, before operations slowly resumed hours later.
The emergency also left about 170,800 buildings without power for several hours. Production at the Mitsubishi Motors Corp. and Daihatsu Motor Co. factories in Osaka and Kyoto prefectures was also halted as a result of the quake. Scattered goods were seen on shop floors.
Prime Minister Shinzo Abe instructed the government agencies to "swiftly collect information on damage, make utmost efforts in rescuing and saving lives... (and) provide timely and appropriate information to the public."
If you like this story, share it with a friend!