Israeli jets strike 9 targets in Gaza in response to 'explosive kites & balloons' (VIDEO)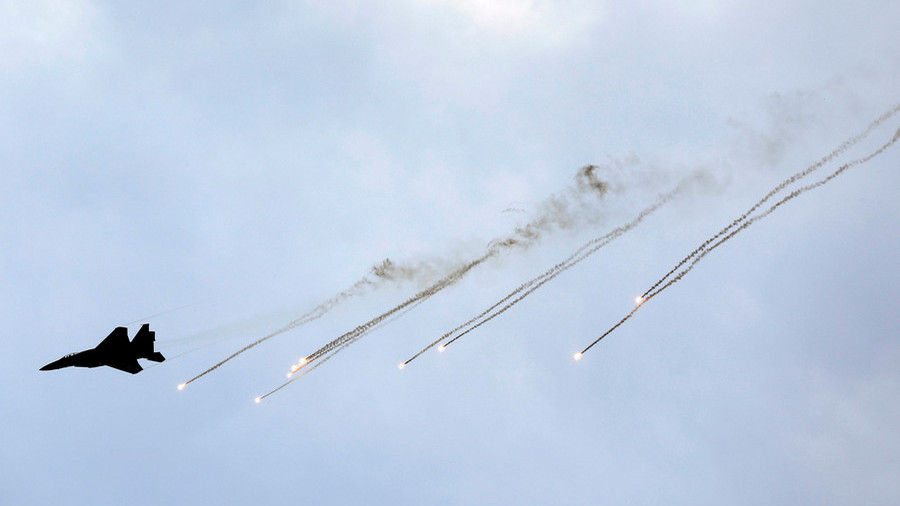 Israeli Air Force jets have carried out a series of strikes on Gaza, reportedly destroying several Hamas military targets in retaliation to alleged arson attempts and "explosive kites and balloons" being launched at Israel.
"The IDF attacked nine terror targets in two military compounds and a weapons manufacturing facility belonging to the Hamas terrorist organization in the northern Gaza Strip in response to the firing of kites and explosives and incendiary attacks on Israeli territory," the army said in a statement. The IDF said that it treats the incident as terrorist acts and will continue to retaliate against such threats from the Gaza Strip against Israeli civilians.
The IDF has reiterated that it holds Hamas responsible for "everything in and out of the Gaza Strip" and that the organization "will bear the consequences" of its actions or inactions.
Throughout the Great March of Return protests, which erupted along the Gaza-Israeli border in late March, Palestinians used balloons and kites to send homemade explosive devices into Israel, resulting in a number of fires across southern Israel. Most of them targeted farmlands close to the Gaza border.
In order to put a halt to these activities, Israel has limited the amount of helium gas that can be brought into Gaza, restricting it to medical treatment only. Tel Aviv has also threatened to cut off the gas supply unless the kite attacks cease.
A similar incident occurred on Sunday, when the Israeli Air Force fired shots near a group of Palestinians for "launching arson balloons" in southern Gaza. There were at least two such attacks, the IDF tweeted.
The Israeli military also attacked Palestinians who were allegedly launching "arson balloons" and jets targeted the site from which the group had been operating and their vehicle.
Over 130 Palestinians have been killed by Israeli forces during the protests along the border with Gaza. The UN General Assembly condemned Israel's "excessive use of force" against Palestinian demonstrators, adopting a nonbinding resolution last week. US envoy Nikki Haley wanted the final document to have an amendment condemning Hamas, but the proposal failed to draw enough support.