Illegal Monsanto GMO wheat discovered at 'isolated site' in Canada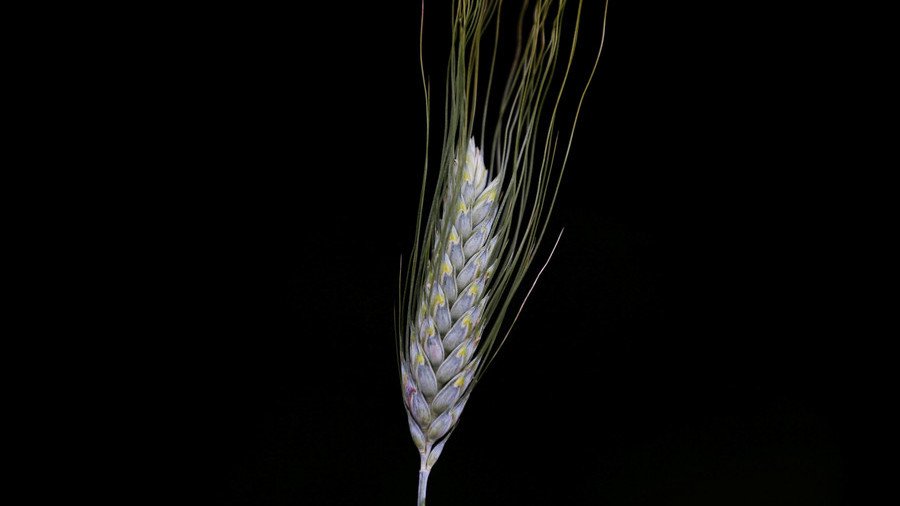 Canadian authorities have admitted that a patch of an unapproved, genetically modified strain of wheat has been found in the wild, well outside of old Monsanto test areas, but hope the unfortunate discovery won't hamper exports.
The crop, of unknown origin, was first discovered on an access road in Alberta last year, after it survived the spraying of the area with herbicide, the Canadian Food Inspection Agency (CFIA) said Thursday. After conducting thorough tests on the samples, the watchdog concluded that the crop was "genetically modified and herbicide-tolerant," and was never approved for commercial use or production within Canada. The agency then narrowed down the producer of the crop to be Monsanto, the agrochemical and biotechnology giant.
"CFIA confirmed that the Alberta wheat sample was a match for a Monsanto GM wheat line (MON71200), which was used in multiple confined research field trials in the late 1990s and early 2000s in both Canada and the United States," the watchdog said in its report.
Genetically-modified wheat is not approved to be grown for commercial use anywhere in the world due to food safety concerns. Both the US and Canada have previously conducted field trials on GMO wheat.
It remains a mystery how the strain got into the wild more than 62 miles (100 km) away from any known former test fields. The size of the contaminated patch is also unclear. Authorities, however, are adamant that no GM wheat has entered the country's commercial system, and hope that the discovery will not interfere with the export trade of one of the world's largest wheat exporters.
"The government is going to provide information to allow our trading partners to make informed, science-based decisions to continue trading in Canadian wheat," said Kathleen Donohue, executive director of market access at Agriculture and Agri-Food Canada.
Canada is reasonably worried that some of its customers might reconsider deals, pending further investigation. For instance, back in 2016, Japan and South Korea temporarily suspended imports of some US wheat, after a discovery of GMO wheat developed by Monsanto.
Emphasizing that the strain has not been found anywhere in the country's commercial fields outside of that one "isolated site," the CFIA vowed to monitor the area of discovery for the next three years. The discovered GM crop has, meanwhile, been destroyed, with Health Canada reassuring the public that the "finding does not pose a food safety risk."
Monsanto told RT in an emailed comment that "CFIA took the lead on inspection activities associated with this matter and has found no evidence to show that transgenic wheat is in commerce. On May 9, 2018, risk assessments examining potential implications of this wheat to food, animal feed and the environment were completed by Health Canada and CFIA. These risk assessments determined that this wheat does not pose any risk. There are no food, feed or environmental safety concerns associated with glyphosate tolerance in plants."
Like this story? Share it with a friend!
You can share this story on social media: