Philippines plans to give free guns to 'clean' community leaders willing to fight drugs & crime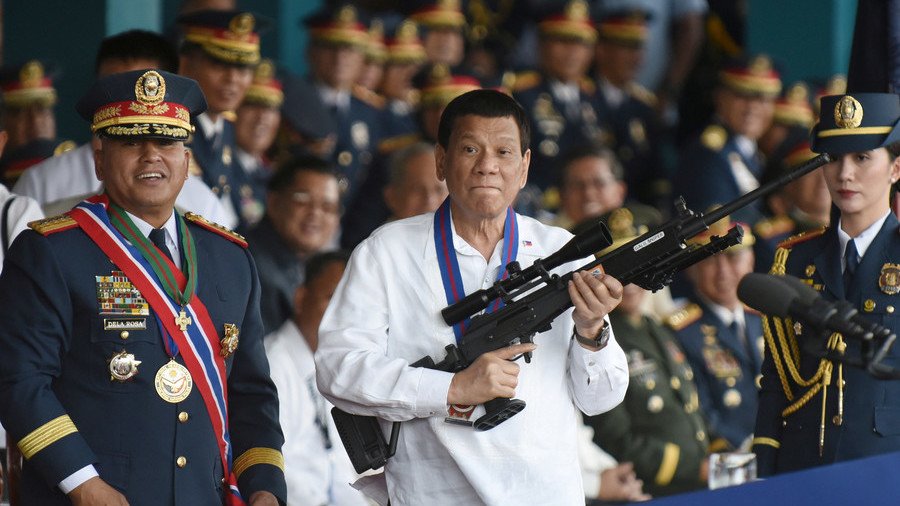 The Philippines' Interior Ministry has announced plans to provide some 42,000 community leaders with free handguns to ramp up the statewide battle against drugs and crime, which continues to draw the ire of human rights defenders.
The decision to give state-issued handguns to the community leaders – known locally as barangay captains – was announced by the ministry on Wednesday. The Philippines' barangay localities vary in size and may be described roughly as districts or neighborhoods.
The main condition to acquire a gun for barangay captains is to be willing to fight crime and to not be engaged in illicit activities themselves. The said guns will be provided free-of-charge or the state will subsidize a private purchase of a captain's gun of choice.
"The condition is that the captain should fight drugs and crime. If he is conniving with criminals, he could be the one shot," the interior department undersecretary Martin Dino, who oversees the country's barangays, told Reuters.
On Tuesday, the Philippines' President Rodrigo Duterte stated that he had been considering giving the guns to the barangay captains. Last week he vowed to provide them with the same legal protection as police officers, stating that they "will never go to jail" if they kill suspected criminals. At the same time, the Philippines strongman has repeatedly accused some community officials of being involved in the illicit drugs trade.
The decision to arm the barangay captains was condemned by the country's opposition figures, who expressed fears it might lead to widespread violence and would effectively turn the Philippines into a "wild west."
"With the same mindset of killing now, we could expect that the whole country would become a killing field," opposition lawmaker Gary Alejano said.
Rodrigo Duterte was elected president back in 2016, promising to eradicate the illegal drug trade in the country, plagued by the shabu – local slang term for methamphetamine. The war on drugs that then unfolded has since claimed the lives of over 4,000 people, according to official data, while human rights groups allege that the figure might be at least three times higher. Law enforcement has been repeatedly accused of extrajudicial killings of suspected drug dealers, while Duterte's controversial remarks have only provided grounds for further speculation.
The Philippines' war on drugs has invoked the wrath of human rights groups, including the UN Human Rights Council, which initiated a probe into alleged abuses and extrajudicial killings. All the accusations have been brushed off by the country's officials, with Duterte himself hurling insults at the human rights groups. In one of his latest tirades, the Philippines' president branded the UN Human Rights Commissioner Zeid Ra'ad Al Hussein a "son of a whore," who lacks "gray matter between [his] ears."
Think your friends would be interested? Share this story!
You can share this story on social media: