Saudi-led coalition launches attack on Yemen's 'humanitarian lifeline' of Hodeidah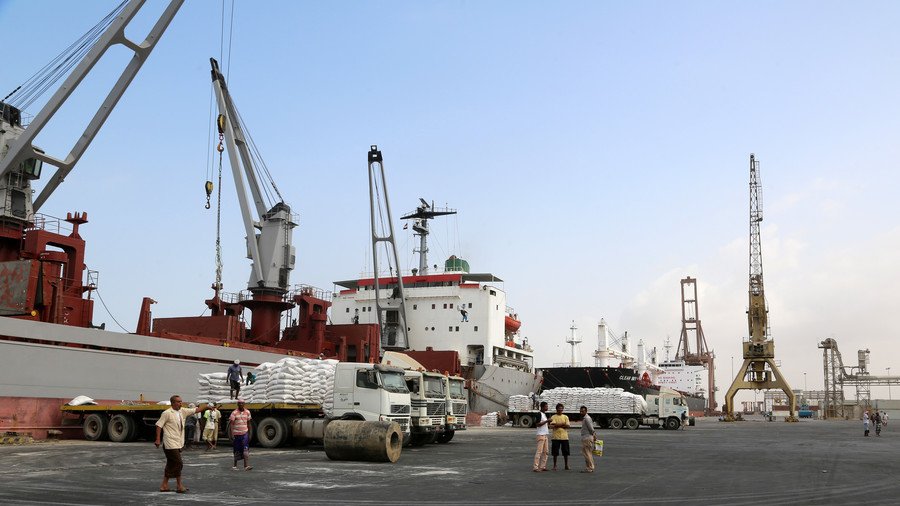 The Saudi-led coalition and forces loyal to the former president Hadi have launched an assault on Yemen's main port city of Hodeidah, one of the remaining humanitarian lifelines in the war-torn country, local news outlets report.
The operation to retake the vital port city from the Houthis was launched on Wednesday morning, after the rebels rejected an ultimatum and refused to surrender the city by the end of Tuesday, a deadline set by the United Arab Emirates (UAE), Al Arabiya reports.
Large-scale ground operations, supported by the air and naval forces of the Saudi-led coalition, began to move in on the city from numerous directions, a military source told the publication. The government of exiled president Abd Rabbuh Mansour Hadi, partially based in Aden, issued a statement, claiming that the military operation was the last-ditch effort to "restore legitimacy to the entire national territory after exhausting all peaceful and political means to remove the Houthi militia from the port of Hodeidah."
"Liberation of the port of Hodeidah is a milestone in our struggle," the statement reads. "Liberation of the port is the beginning of the fall of the Houthi militias. It will secure navigation in the Bab al-Mandab Strait and cut off the hands of Iran."
Recapturing Hodeidah and its port is crucial for the Arab coalition. Over the course of the conflict, Riyadh has repeatedly tried to blockade the docks, accusing Iran of using them to smuggle arms to the Houthi rebels.
Just days before the launch of the operation, the United Nations warned that an attack on the densely populated coastal city could cost up to 250,000 lives. Previously, international aid agencies voiced alarm over the "looming disaster," stressing that a battle will jeopardize the delivery of the scarce humanitarian aid desperately needed by the civilian population.
Even Washington, the biggest arms supplier to Saudi Arabia, also allegedly warned against the assault on the port city. "The United States has been clear and consistent that we will not support actions that destroy key infrastructure or that are likely to exacerbate the dire humanitarian situation that has expanded in this stalemated conflict," a spokesperson for the White House National Security Council told Reuters last week.
The Saudi-led coalition has been waging a brutal military campaign in Yemen since March 2015, trying to restore former president Hadi to power. Three years of Saudi-led bombardment and a blockade of Yemen has led to the near-collapse of the country. Some 22 million people, or 80 percent of the Yemeni population, are in need of humanitarian aid, while more than half of the country is left without basic medical services.
Like this story? Share it with a friend!
You can share this story on social media: