Nukes aside, let's talk cars: Trump shows off his 'Beast' limo to Kim at Singapore summit (VIDEO)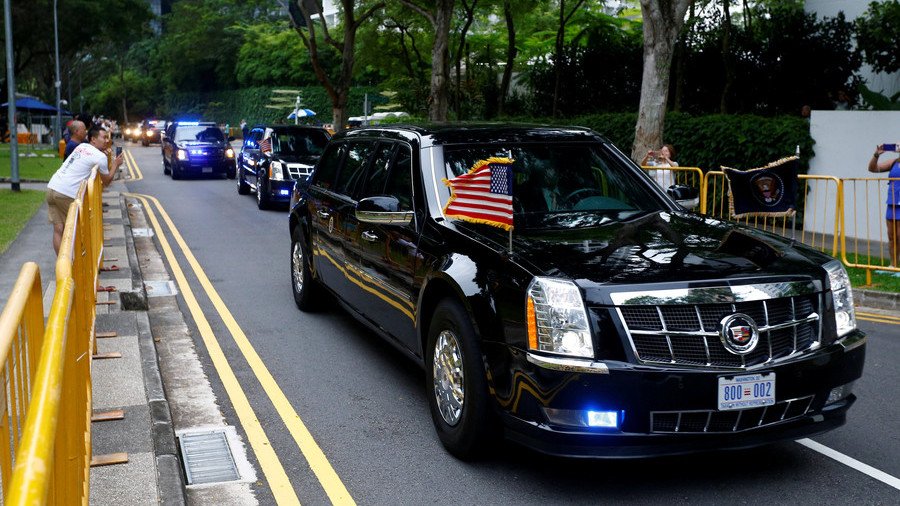 Taking a break at the historic US-North Korea summit, Donald Trump offered his counterpart Kim Jong-un a rare glimpse inside the American presidential limo commonly known as 'The Beast.' The moment was caught on camera.
US President Donald Trump and North Korean leader Kim Jong-un were seen on the grounds of the Capella Resort in Singapore, walking towards the black armored limousine nicknamed 'The Beast.' Following a gesture from Trump, a Secret Service agent slowly opened the passenger door.
Kim, smiling broadly, peeked inside before walking away with Trump. It is unclear whether 'The Beast,' known for its protective gear, made any impression on the North Korean leader. His own black Mercedes limo was spotted earlier in the streets of Singapore.
Much to the surprise of locals, it was almost entirely surrounded by bodyguards in identical black suits, jogging alongside the vehicle as it arrived at the St. Regis hotel where Kim stayed during the summit.
Like this story? Share it with a friend!
You can share this story on social media: