Anti-immigrant Sweden Democrats party surges in polls amid EU's Eurosceptic wave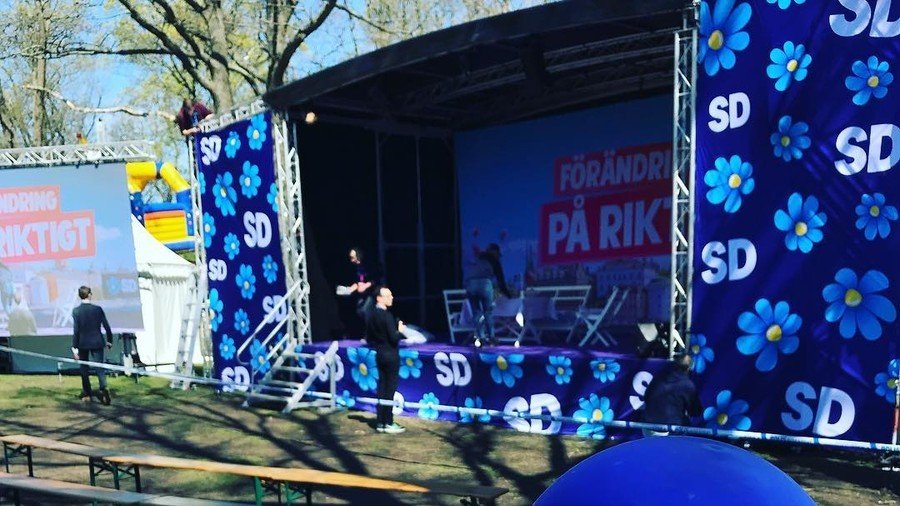 The anti-immigration Sweden Democrats have gained ground in a recent poll, pulling almost even with the ruling Social Democrats, ahead of an election in September. Similar parties have won recent elections in Slovenia and Italy.
The poll, conducted for Sweden's Expressen newspaper and published Monday, has put the Sweden Democrats in second place, with 21 percent of the vote, the highest score in the party's history. The liberal Social Democrats, currently in a coalition government with the Green Party, are still in first place but polling at 23.1 percent.
The surge in popularity for Sweden Democrats is attributed to voters leaving Social Democrats for other left-wing parties, but also to the country's open-door migration policy, which has been accompanied by a crime wave.
Latest poll in Sweden has the national populist Sweden Democrats in 2nd on 21% Sweden was never supposed to have a successful populist party pic.twitter.com/nZipGCcNbT

— Matthew Goodwin (@GoodwinMJ) June 12, 2018
Gang-related gun murders –overwhelmingly carried out by men with migrant backgrounds– have surged from around four per-year in the early 1990s to 40 last year. Rapes and anti-Semitic attacks by Muslim immigrants have also surged. Grenade attacks were up 550 percent last year from three years prior.
Just last week, Rakmat Akilov, an asylum seeker from Uzbekistan, was given a life sentence for a truck attack last year. Akilov plowed a truck down a busy shopping street in Stockholm last April, killing five people and injuring almost a dozen others. Among the dead was an 11-year-old girl. He said he acted on behalf of Islamic State (IS, formerly ISIS/ISIL).
"I often use Sweden as a deterring example," Danish Prime Minister Anders Fogh Rasmussen said on Swedish television in January, warning about the dangers of unchecked immigration.
In April, a poll by Demoskop revealed that immigration is the top issue for Swedish voters ahead of the election. Law and order is the third most important issue, while integration comes in fourth. On immigration and integration, voters have the most confidence in the Sweden Democrats party.
The Social Democrats party seems to be be focusing on other issues, however. On Monday, Stockholm's city council voted to ban 'sexist' advertising in public spaces, including ads that "show a stereotypical image of gender roles." The council is run by the Social Democrats and Moderate Unity Party, described as "liberal conservatives."
The Sweden Democrats' rise appears to be tracking the broader swing in support towards parties critical of immigration across the European Union. Italy got a Eurosceptic government at the end of May, which immediately took a tough line on immigration. Over the past weekend, the Italian navy turned back a French ship that rescued 629 migrants in the Mediterranean, criticizing the EU leadership in Brussels for leaving Italy to bear the brunt of Europe's migrant problem "all by itself."
Last week, Slovenia's anti-immigrant SDS-EPP party won the general election there, with 28 percent of the vote. The SDS-EPP has promised to lock down the Slovenian border and ban the wearing of the burqa in public. They have received open support from Hungarian Prime Minister Viktor Orban, a long-time crusader against immigration and the Brussels establishment.
The Sweden Democrats still face an uphill battle to get into government. Sweden's establishment parties have long refused to enter into coalition with them. Electoral math still favors a loose alliance of centrist parties, currently polling 38.5 percent, while a leftist coalition around the Social Democrats is polling at 36.2 percent.
"The important thing for us is to get as much of our policy through as possible, and then it does not matter who we get it through with," said party leader Richard Jomshof. "Anything is possible."
If you like this story, share it with a friend!
You can share this story on social media: