Qatar's NATO bid endangers Washington's ability to keep out of Gulf dispute, analysts tell RT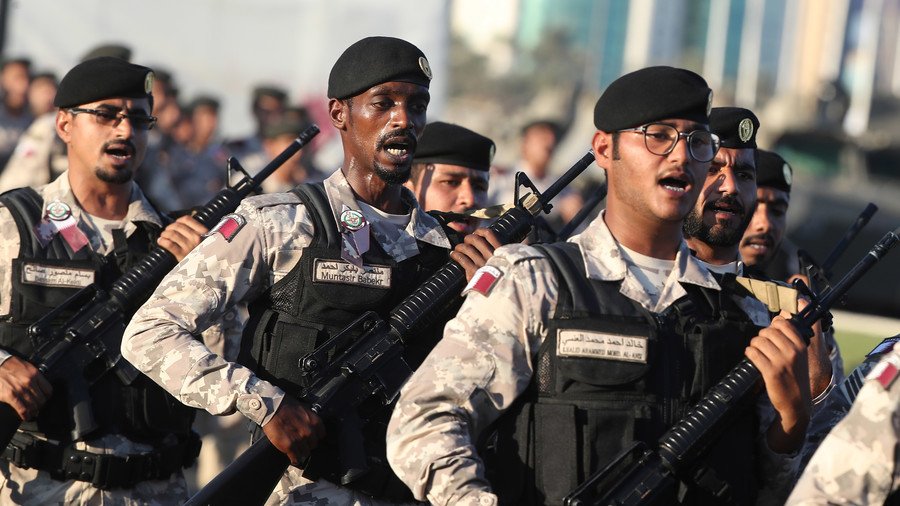 Qatar's interest in joining NATO is the latest Persian Gulf headache for Washington, which is doing all it can to avoid taking sides in a one-year-old feud between Doha and four Arab states led by Saudi Arabia, analysts told RT.
Defense Minister Khalid bin Mohamed al-Attiyah said on Tuesday that Qatar wants to strengthen its ties with NATO, and even has ambitions to seek full membership in the alliance.
"NATO appreciates Qatar's contribution to combating terrorism and [drying up] its financing," he told Altalaya, the official magazine of the Qatari Defense Ministry, adding that the Arab state would be an ideal host for "NATO's units or one of its specialized centers."
His comments come exactly one year to the day after Saudi Arabia, the United Arab Emirates, Bahrain, and Egypt severed ties with Doha, imposing a land, sea, and air blockade as punishment for Doha's alleged support for terrorism and growing ties with Iran. The four Arab states issued a list of 13 demands for Qatar at the time, including downgrading relations with Tehran. The ultimatum was swiftly rejected by Doha.
Considering their curious timing, Doha's NATO comments are likely aimed at Riyadh, Dr Jamal Wakeem, professor of history and international relations at Lebanese University in Beirut, told RT.
While it's unlikely that Qatar is a serious contender for NATO membership, Doha is highlighting its strategic importance for the US – the Arab state is host to the largest American military base in the region – in an attempt to "intimidate" the Saudis, Wakeem said. However, the Americans are "trying to balance their stance" on the growing Arab dispute, as Washington has little to gain from the Riyadh-Doha feud.
Marianna Belenkaya, a Middle East analyst for Russia's Kommersant daily, agreed, telling RT that Doha's statement is a "PR move towards the West" that will likely create "jealousy" in Riyadh.
While Doha's comments should be interpreted as a statement of "loyalty to the West," the US is "not taking sides" because the Gulf state dispute is "not beneficial to them," Belenkaya added.
With troops in Qatar and a strong economic and military partnership with Saudi Arabia, Washington sees "Arab Gulf states as a single bloc that can oppose Iran's interests in some ways and so they don't want the bloc to facture," Belenkaya said. "They are interested in keeping the defense of the Gulf united. So, they take steps at least to make it seem like they are trying to create peace between the Saudis and Qatar."
Qatar has emerged largely unscathed from the year-old economic blockade, but defending against a Saudi-led military incursion would prove to be a much taller order for the tiny Arab state.
"Qatar's wish [to join NATO] is easy to explain, considering that it now sorely needs the protection of a powerful bloc, considering the crisis in the Gulf," Belenkaya said. And Doha is apparently open to all forms of protection – regardless of where they come from.
The Arab state has expressed interest in acquiring Russia's advanced S-400 air-defense system, a move that so enraged Riyadh that it reportedly threatened Doha with military action.
If Doha continues to defy Saudi Arabia's sphere of influence in the region, Washington will be left with few options, Belenkaya noted.
With no settlement to the dispute on the horizon, the US could just keep "selling weapons to both sides and use both [nations] for influence in the region, more military influence… so there really is no need to accept anyone into NATO."
But playing friendly arms dealer to both nations will come with its own set of problems. Riyadh is the largest purchaser of American-made weapons, and the US has supported Riyadh's role in the Saudi-led campaign in Yemen. But falling out of favor with Qatar could lead to Doha further accelerating its ties with Tehran, or even worse, running into the arms of Moscow – and its highly effective anti-air systems which make "humanitarian interventions" so difficult.
Think your friends would be interested? Share this story!
You can share this story on social media: