Dramatic VIDEO from inside truck as it gets swallowed by volcanic ash cloud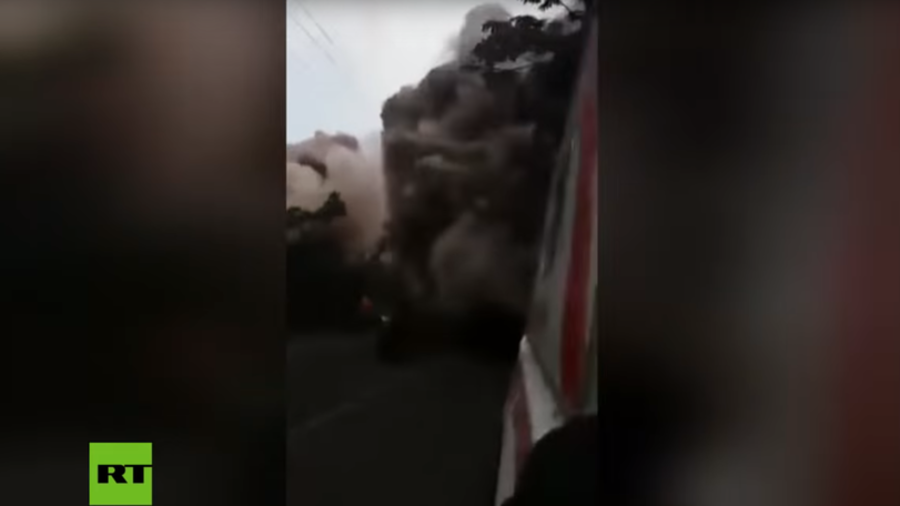 Dramatic videos are appearing on social media showing some of the blood-curdling moments of the eruption of the Fuego volcano in Guatemala, which has left more than 60 people dead. One shows a truck trying to outpace an ash cloud.
The video was filmed by a passenger in a truck, which was overtaken by a cloud of ash released by the eruption, in the middle of the road. In the beginning, all you see is the driver frantically starting the engine and turning onto a road. Then, the camera turns backwards, and the towering grey cloud billows into view.
Within seconds, accompanied by honking and the sounds of sirens, the cloud covers the entire road, reducing visibility to zero. For a while after that, the driver tries to keep moving, before getting forced to a halt. Afterwards, you can hear cries for help coming from the ash-blanketed road outside the truck and, apparently, the vehicle's occupants trying to get one of those left outside into their truck.
READ MORE: Thousands flee lava & ash fallout after deadly Guatemala volcano eruption (VIDEOS)
You can share this story on social media: