'Just in case, I am not suicidal,' journalist accused of treason tells Ukrainian court
The head of a Russia-linked news agency, accused by Kiev of state treason, has told a court that he has no intention of taking his own life. Kirill Vyshinsky also says authorities have put pressure on him, his friends and family.
Vyshinsky, the head of RIA Novosti Ukraine, was summoned to court on Friday as prosecutors sought to extend his detention period. In an address to the court, he apparently tried to dissuade the Ukrainian authorities from staging his suicide in prison.
Read more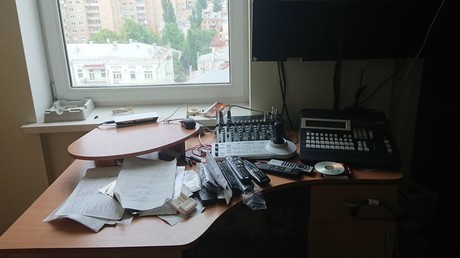 "My speech may be affected by emotions and sometimes I struggle to keep calm. But I want to say that I feel normal, I have not suicidal thoughts. So there would be no sense saying I may do something harmful to my health. I say this to preempt possible scenarios in that direction," he said.
During his speech Vyshinsky looked somewhat distraught and occasionally seemed to be holding back tears. During more than two weeks in Ukrainian custody, he said he was subjected to serious pressure by the authorities, both directly and through people he holds dear, including family members, fellow journalists and friends.
"I believe this pressure is meant to extract testimony they want, or some materials the investigators want. I am not an expert, but I believe the legal definition would be abuse or torture."
"There are dozens of people with whom I worked for a long time, who were close to me… and who are pretty much accused of being accomplices in treason. I am worried for the lives and well-being of those people," he said.
Vyshinsky said the Ukrainian authorities apparently wanted him as a hostage who could be exchanged for Ukrainian citizens accused of various crimes in Russia. He implied that his decision to renounce his Ukrainian citizenship may speed up his ordeal and called on Ukraine's President Petro Poroshenko to strip him of it. Vyshinsky was born in Ukraine, but also got Russian citizenship in 2015.
Read more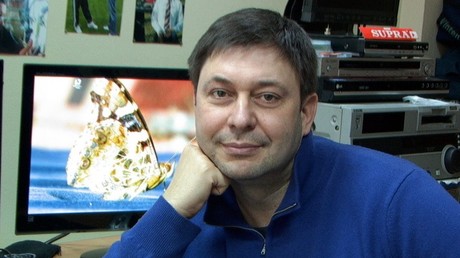 "I regret that freeing Ukrainian citizens serving sentences in Russia cannot be done through diplomacy and requires conducting special operations of the Ukrainian Security Service (SBU), to victimize somebody," he said.
Surrendering Ukrainian citizenship was one of the hardest decisions of his life, Vyshinsky said, adding that it in no way means he does not love Ukraine or is not a patriot of the country.
"I was always proud to show my Ukrainian passport at the border, but I don't really have other options," he said. He called on the Russian government and Russian President Vladimir Putin personally for help in speeding up his release.
The journalist said he didn't believe his trial would be fair, saying his sentence "is already prepared and is simply waiting for facts to be cherry-picked". He said he was hurt by two things: the accusation of treason of his homeland and the fact that his journalistic work, which he did to the best of his abilities, is now treated as a crime by the Ukrainian authorities.
The court rejected an appeal by Vyshinsky's lawyer to overturn his pre-trial arrest, saying a person suspected of state treason must be held in custody.
Like this story? Share it with a friend!