Lightning strike caught on camera as biblical storms wreak havoc in Germany (VIDEO)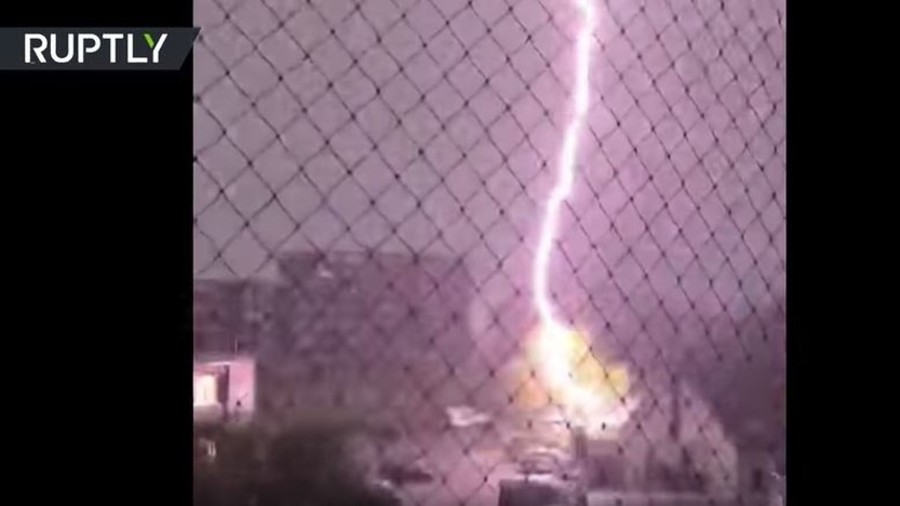 A dramatic lightning strike has been caught on video as Germany continues to be battered by storms of biblical proportions.
Heavy thunderstorms have swept parts of the state of North Rhine-Westphalia leaving several areas including Dusseldorf, Wuppertal and Aachen completely flooded.
One Dusseldorf resident caught the moment a bright burst of lightning flashed before his eyes. A man can be heard laughing in awe of the dramatic weather moment.
Footage gathered by Ruptly also shows flooded streets and buildings. Emergency services reportedly registered a total of 187 weather-related incidents in Dusseldorf as powerful thunderstorms struck the city.
According to local media, the roof of a petrol station and a university building in Wuppertal both collapsed due to the rain. "The entire city was under water," the German Meteorological Office said.
Violent storms are expected to continue in the days ahead with Berlin and Munich among the likely targets."There is no end in sight," the German Weather Service (DWD) said Wednesday before warning that "it's going to get loud."
READ MORE: 'Mother of all thunderstorms': UK hit by up to 20,000 lightning strikes (PHOTOS, VIDEOS)
Earlier this week two women were seriously injured after being struck by lightning while taking selfies in the western city of Bochum.
Like this story? Share it with a friend!
You can share this story on social media: