'At least nobody died': Officials react to 'fake assassination' of Russian journalist in Kiev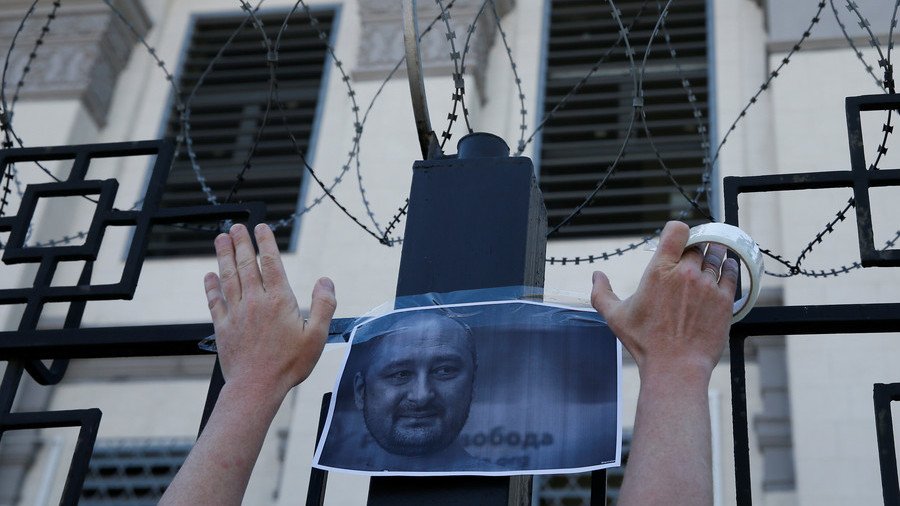 Officials in Russia reacted with reserved dismay to the staged assassination of a Russian journalist by Ukrainian state security services (SBU), which led to claims that the Kremlin had ordered the 'hit'.
Arkady Babchenko, a long-time critic of the Russian government, who was living in the Ukrainian capital while reportedly working on a paperwork to immigrate to the EU, was revealed on Wednesday to be alive at a media briefing held by the SBU. A day earlier it was reported that he had been shot dead at the door of his apartment in Kiev – with numerous commenters in Ukraine blaming Russia for the crime.
Officials and media professionals in Russia reacted with a mixture of relief and anger to the development, with some accusing the Ukrainian authorities of deliberately inciting hatred towards Russia with their ruse.
Konstantin Kosachev, the chair of the Foreign Relations Committee in the Russian Senate, called the SBU ruse "a stage in a series of delusional actions of the Ukrainian authorities directed at Russia" and compared it to the murky case of the poisoning of Sergey and Yulia Skripal in the UK.
"There are details here to get into, but the logic behind this action is the same – to use every and all means to slander Russia," he said.
Maria Zakharova, the spokesperson for the Russian Foreign Ministry, said the twist obviously has propaganda dimension.
"The fact that Babchenko is alive is best news. I wish it was always like these. Too bad in other cases there was no masquerade," she wrote on Facebook. "It is obvious that the story was meant to have a propagandist effect."
READ MORE: 'Season finale twist': Twitter in shock after 'assassinated' journalist Babchenko emerges alive
Pavel Gusev, Editor-in-Chief of the Russian newspaper Moskovsky Komsomolets, said the SBU insulted the Russian press corps with their ruse and that Babchenko, a former employee, shared the blame.
"I believe it to be more than a provocation against Russia. I believe it to be a personal attack by Babchenko against our media community. It's an insult," he said. "I strike out Babchenko from the Moskovsky Komsomolets staff for ever. He never worked here!"
The SBU claims that Russian intelligence paid $30,000 to some people to kill Babchenko and that they had to stage his assassination to thwart the plot. So far no evidence in the case was presented to the public. Authorities in Kiev tend to blame every high-profile crime committed in Ukraine on the Kremlin, claiming that the Russian government is trying to "destabilize the situation" in the country.
If you like this story, share it with a friend!
You can share this story on social media: