'Not a German or EU colony': EU's budget chief Oettinger slammed for telling Italians how to vote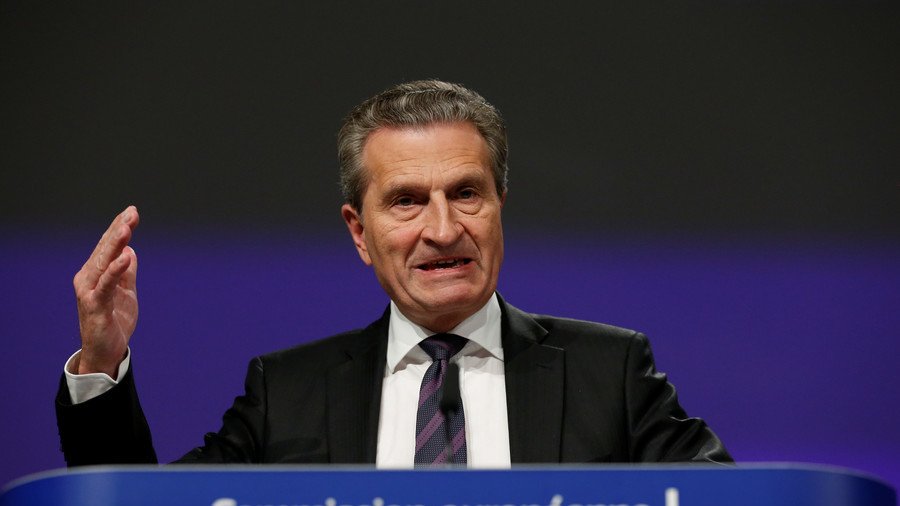 An outraged public has slammed Germany's European Commissioner Guenther Oettinger for telling Italians that 'markets will teach them not to vote for populists'.
"My concerns and expectations are that the coming weeks will show that markets, government bonds and Italy's economy could be so drastically impacted that they would serve as a signal to voters not to vote for populists on the right and left," Oettinger told DW in an exclusive interview.
Although the EU Commissioner was swift to apologize, saying he "did not mean to be disrespectful", his apology did not seem to quell or reassure those fuming on social media.
"Thank you for telling Italians the truth about EU system," an Italian man wrote, saying he was grateful to the Commissioner for having honestly unveiled the EU agenda and their plans for Italy. "Some of us took 7 years to enlighten half the minds you and Mattarella enlightened in 5 minutes."
Many on Twitter blasted Oettinger for threatening Italian voters. They claimed they would not allow anyone, whether it's Germany or the EU to dictate who they should or should not vote for.
"Italian democracy shall be respected by everyone. As always in our Republican history, Italians will vote freely and independently," was the response from the official Twitter account of the Permanent Representation of Italy to the EU.
One of the commentators said that "Italy is not a colony of Germany or EU."
Oettinger's official apologies, where he insisted he was misquoted and misunderstood, also received its fair share of bashing."I was misquoted" is the new "the dog ate my homework," one of the tweets read.
"I was misquoted" is the new "the dog ate my homework."

— Gino Masini (@ginolm) 29 мая 2018 г.
Insufficient apology. You even retweeted the wrong translation. You are not even trying to say you were misunderstood that is the minimum in these cases. Just resign. #Oettinger#Oettingate

— Francesco Guerzoni (@FG_FedEU) 29 мая 2018 г.
Despite the fact that journalist Bernd Thomas Riegert, who interviewed the Commissioner, had instantly deleted the original tweet with the menacing "the markets will teach the Italians to vote for the right thing" and had apologized for incorrect translation, his apology meant little if nothing to the angered public.
"I doubt this will change anything. Germany's arrogant and supremacist attitude towards other member state is obvious and well-documented, and Oettinger simply isn't linguistically gifted enough to hide it."
Oettinger's comment didn't escape the two leaders of Italian Euroskeptic coalition, dissolved by President Mattarella. The leader of the League, Matteo Salvini accused the EU official of interfering in the internal affairs of the country and called for Oettinger's immediate resignation. Salvini stated that Brussels officials "don't have any shame" and that the only way to interpret Oettinger's words was to take them as a threat that demonstrated a "German desire for hegemony."
Echoing the words of the League's leader, many on Twitter suggested that "the only decent thing" to do was to "resign", because that sort of behaviour is "totally unacceptable for a person holding a post by which he represents the entire European Union".
Political turmoil in Italy has worsened after the recent whiplashing events. Having effectively scrapped the deal between the newly formed League-Five Star Movement coalition by vetoing a finance minister over his alleged anti-euro views, Italy's President appointed ex-IMF director Carlo Cottarelli as new interim PM. The pro-austerity and pro-EU appointee is expected to form and lead an interim government until new elections are held.
Think your friends would be interested? Share this story!
You can share this story on social media: