IDF destroys Gaza 'terror tunnel' extending 900 meters into Israel (VIDEO)
Published time: 29 May, 2018 17:24
Edited time: 23 Jul, 2018 11:29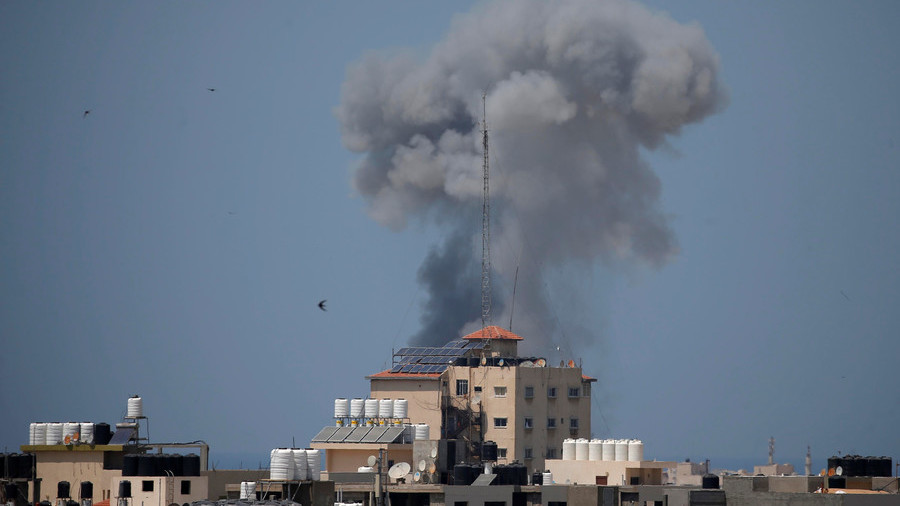 The IDF has released a video claiming to show the destruction of a Gaza tunnel that stretched nearly 1km into Israeli territory. The Israeli Air Force struck more than 30 targets in Gaza in response to two rocket barrages.
Released by the Israeli military on Tuesday, the short video shows an airstrike against a "Palestinian terror tunnel that entered 900m inside Israel," according to Israeli journalist Amichai Stein.
The tunnel, located near the Kerem Shalom border crossing, extended inside Israeli and Egyptian territory and was used "for transporting weapons to the territory of Egypt," the Israel Defense Forces (IDF) claimed.
The tunnel was targeted after dozens of mortars and projectiles were reportedly fired at Israel from inside Gaza on Tuesday. Israel says that most of the projectiles were intercepted by its Iron Dome missile defense system. At least one civilian and three soldiers were injured in the attacks, according to Israeli media.
In retaliation, Israel's air force carried out strikes on 30 targets inside Gaza. Commenting on the operation, Defense Minister Avigdor Lieberman said Israel had "massively and powerfully attacked terrorist infrastructure, including an additional tunnel, across the Gaza Strip," adding that "Hamas and Islamic Jihad have already paid a heavy price and the bill has just been presented to them."
The IDF described the incident as the worst flare-up in violence in the area since the 2014 Gaza war. The Israeli operation, dubbed Operation Protective Edge, killed more than 2,000 Palestinians, including more than 500 children, according to Amnesty International.
The uptick in violence comes after more than a month of protests across Palestinian territories marking the 70th anniversary of the Nakba, or 'catastrophe,' when hundreds of thousands of Palestinians were expelled from their land after Israel was created in 1948. The anniversary coincided with the official opening of the United States' new embassy in Jerusalem – an internationally condemned move that also sparked protests.
At least 119 protesters have been killed and more than 2,000 injured in protests since March 30, when the six-week 'Great March of Return' began.
Like this story? Share it with a friend!