IDF launches Gaza military op after a 'barrage of mortar shells' fired towards Israel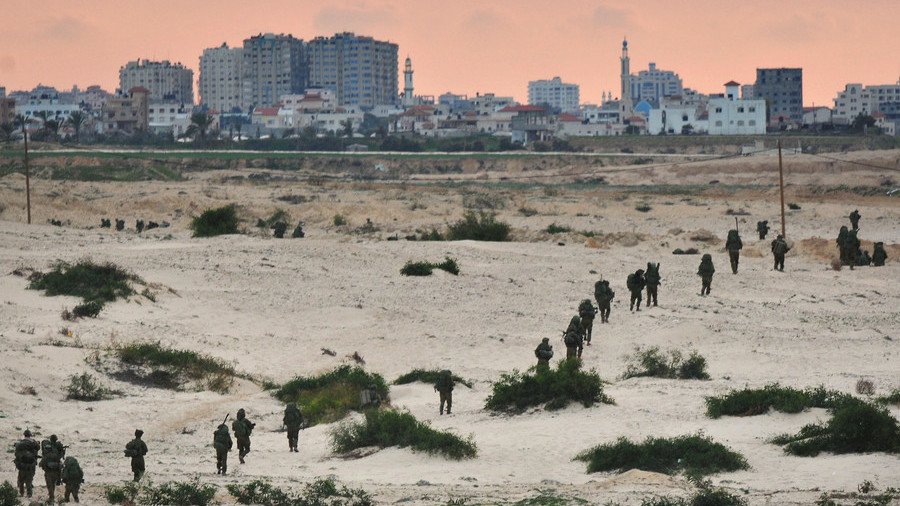 The Israeli Defense Forces (IDF) said they have launched a military operation in Gaza after a barrage of mortar shells was fired towards Israel. The Iron Dome anti-missile system intercepted the majority of the missiles.
"The IDF is currently operating in the Gaza Strip. The explosions heard are related to this activity," the Israeli forces said in a statement released on Twitter. "A barrage" of at least 28 mortar shells was launched towards several locations in Israel, according to the IDF.
"Most of the launches were intercepted by the IDF's Iron Dome aerial-defense system," the army added.
The IDF is currently operating in the Gaza Strip. The explosions heard are related to this activity. Details to follow

— IDF (@IDFSpokesperson) May 29, 2018
Rocket sirens went off in several Israeli locations close to the Gaza border on Tuesday morning, the IDF stated. An Israeli kindergarten located near the Gaza Strip was hit by several mortars, video released by Israeli forces shows.
No injuries were reported as the rockets were fired when children only made their way to the school.
In the meantime, Reuters cited local residents, saying that Israeli aircraft struck a position by the Islamic Jihad militant group in the Gaza Strip as a response to mortar shelling. Israeli military, however, declined to comment on the report.
Shortly after announcing the operation, the Israeli military said that it intercepted more projectiles fired from Gaza Strip.
The IDF also destroyed a "terror tunnel" near Kerem Shalom border crossing. The tunnel extended inside Israeli and Egyptian territory and was used "for transporting weapons to the territory of Egypt," the army said.
מאז אוקטובר האחרון נוטרלו עשר מנהרות טרור התקפיות של ארגון הטרור חמאס מרצועת עזה. היום נוטרלה מנהרה במרחב מעבר כרם שלום, שיוצאת מרצועת עזה, חודרת למצרים ומשם חוצה לשטח ישראל. המנהרה דו שימושית ומיועדת לצורכי טרור ולהעברת אמצעי לחימה לשטח מצרים. pic.twitter.com/8DBpZfGIUg

— צבא ההגנה לישראל (@idfonline) May 29, 2018
The latest Israeli operation in Gaza dubbed Protective Edge took place in 2014 and resulted in over 2,000 deaths, according to Amnesty International. The campaign was slammed by numerous human rights groups and triggered massive protests worldwide.
Think your friends would be interested? Share this story!
You can share this story on social media: