Bomb threat joke causes panicked passengers to leap from plane wing (VIDEO)
Published time: 29 May, 2018 12:08
Edited time: 7 Aug, 2018 08:11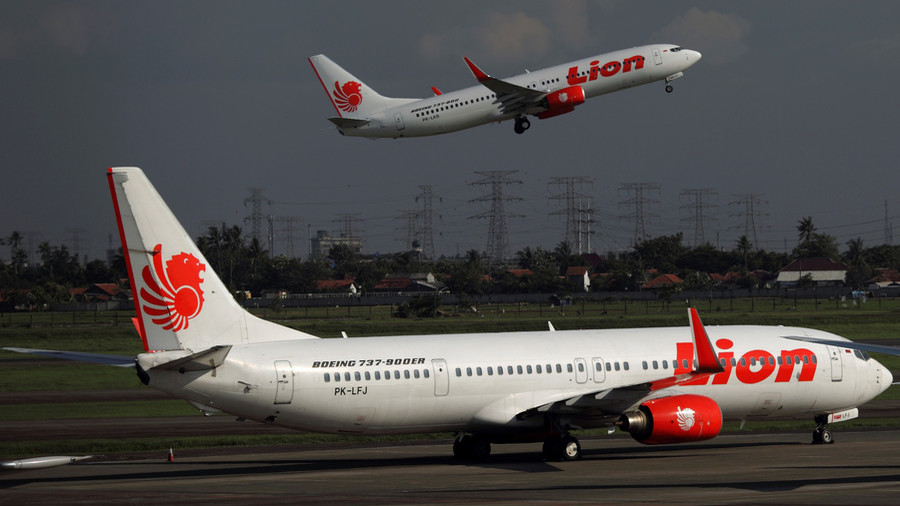 Joking about bombs while aboard a plane is never a good idea – and so it has proved once again after a passenger's ill-advised japes sparked a mass evacuation that left 10 people injured.
READ MORE: London City Airport closed, all flights canceled after discovery of WWII bomb
Some 189 passengers were waiting to take off from Borneo island Monday night when they overheard a man telling a flight attendant there was a bomb aboard their Lion Air Boeing 737. The poorly-timed comment sparked a mass panic as the passengers, who were travelling to the capital Jakarta, opened the emergency exits and poured out onto the plane's wing.
Footage shared in a WhatsApp group by Indonesian airport staff and posted online shows people pushing and crowding each other on the wing before jumping around 10ft onto the tarmac below, with some tumbling painfully onto the ground.
A spokesman for West Kalimantan police told AP that eight passengers were hospitalized with broken bones and head wounds following the incident. Two others sustained minor injuries.
READ MORE: Suicide bombing at Indonesian police station caught on CCTV camera (VIDEO)
The alleged prankster Frantinus Nirigi, 26, was arrested along with another passenger who opened the emergency exits. Police and airport officials subsequently searched the plane and found no explosives on board.
The flight later departed after a three-hour delay. RT has contacted the airport and the airline for comment.
Like this story? Share it with a friend!