Suicide bombing at Indonesian police station caught on CCTV camera (VIDEO)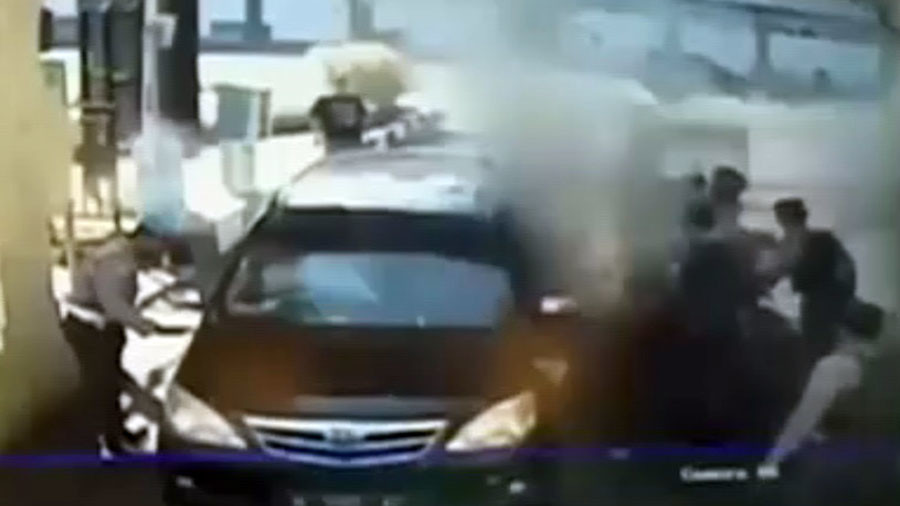 CCTV footage has emerged purportedly showing the moment a suicide bombing occurred at an Indonesian police station as two motorcycles drive into a checkpoint. Four officers and six civilians were injured in the blast.
The attack occurred in the port city of Surabaya on the Indonesian island of Java on Monday morning. "Clearly it's a suicide bombing," East Java police spokesman Frans Barung Mangera said later at a briefing.
WARNING: DISTURBING VIDEO
AP released CCTV footage from the scene, which appears to show two motorcycles driving up to the police station checkpoint. Moments later, when the motorcycles pull up near a car, the blast goes off. Several officers were standing nearby when the explosion took place.
READ MORE: Indonesia church attackers 'used children as suicide bombers'
The incident occurred one day after three churches in Surabaya were hit by suicide bombers, killing at least 13 people and wounding about 40. The attacks were perpetrated by members of the same family, who used children as suicide bombers, police later confirmed.
Think your friends would be interested? Share this story!
You can share this story on social media: