Indonesia church attackers 'used children as suicide bombers'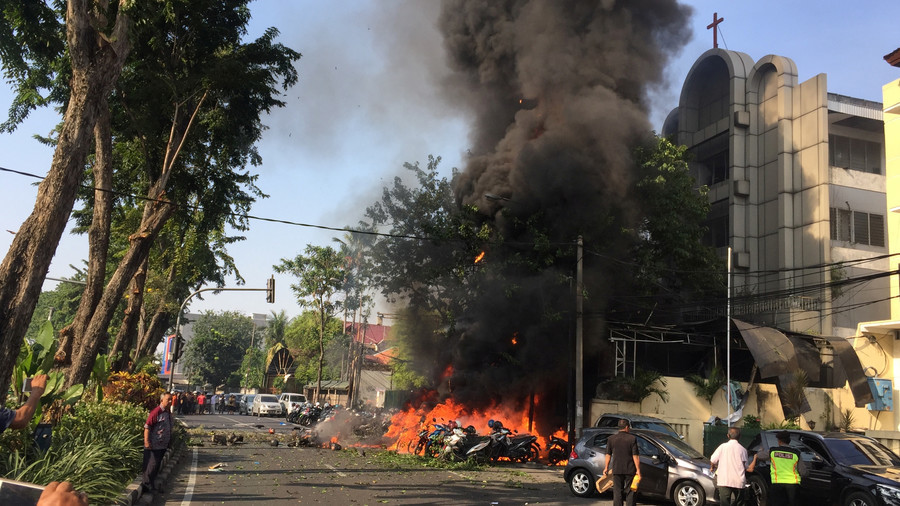 At least 13 people have been killed in three seemingly coordinated suicide bombings that hit churches in the second-largest city of Indonesia, police said. Islamic state (IS, formerly ISIS) has claimed responsibility.
The suicide bombers are all members of one family, including teens and children, according to Indonesian police. The Indonesian president said the terrorists used children as suicide bombers. Around 40 victims who were injured in the attacks were transported to hospital, East Java provincial police spokesman Colonel Frans Barung Mangera told reporters.
The authorities said that the attacks were carried out by a local terrorist group linked to the Islamic State (IS, formerly ISIS, ISIL). A spokesman for the country's intelligence agency said that Jemaah Ansharut Daulah was behind the blasts. The group has pledged allegiance to ISIS mastermind Abu Bakr al-Baghdadi.
The bombings are likely linked to a deadly riot in a high-security jail in Jakarta, which led to the death of five police officers and one inmate on Thursday, said Wawan Purwanto, the communication director at the intelligence agency, as reported by Metro TV. The failed prison break was claimed by IS, but authorities did not believe it was involved.
Indonesian President Joko Widodo described the attacks as "barbaric". Speaking at a press briefing on Sunday, Widodo said he instructed police "to look into and break up networks of perpetrators."
The three blasts hit on Sunday morning, within 10 minutes of each other, police said. They targeted the Santa Maria Catholic Church, the Protestant Indonesian Christian Church in Jalan Diponegoro and a Pentecostal church. Pentecostalism is a renewed movement within mainline Protestant Christianity.
Christians constitute some 10 percent of the population of Indonesia, the largest Muslim-majority country in the world. There have been a number of extremist attacks on religious minorities in the country in recent years.
You can share this story on social media: