'Infidels': Kurds attacked at Greek refugee camp for 'not fasting during Ramadan' (GRAPHIC VIDEO)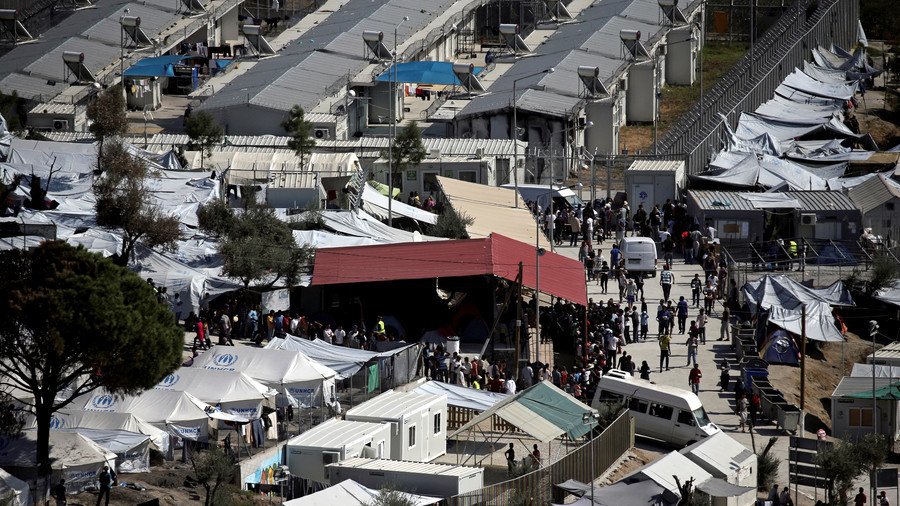 Footage has emerged reportedly showing Kurdish asylum seekers being attacked at a Greek refugee camp. Attackers accused them of being "infidels" for not fasting during Ramadan. Ten people were reportedly injured in the violence.
The incident occurred at the Moria camp on the Greek island of Lesbos on Friday, according to Rudaw. "The fight began when some Arab youth started to fight with Kurds over fasting," Mohammed Khalil, a 19-year-old Kurdish migrant from Syria, told the Kurdish news outlet.
The video shows one man lying on the ground while others engage in physical altercations. Some are seen holding metal and wooden objects.
"I was fasting yesterday, yet some Arabs from Syria, Iraq, Yemen, and Algeria came and said Rojava [Syrian Kurdistan] Kurds are infidels and don't fast. Then the fight started. The refugee Arabs went and later came back together. A bloody fight happened," Khalil said.
He went on to explain that videos circulating on social media show only a fraction of the violence, adding that "hundreds" of Kurds and Arabs were involved.
A least 10 Kurds were "severely" injured in the violence, according to Khalil, while seven others were injured less seriously. First aid was provided at the scene and some refugees were taken to a nearby hospital. Previous reports stated that four people were killed and six others injured.
It's not the first time that the Moria camp, which has been operating at 300 percent capacity for months, has been the scene of violent brawls. The camp saw massive fights in March and December, and an Afghan migrant was reportedly killed in the camp last year.
Meanwhile, RT reported in October that a five-year-old girl had died in a cold, damp tent at the camp after escaping war-torn Syria.
One man at the camp also told RT that he was planning to end his life if things didn't get better. "I cannot take this," he said at the time.
Greece has been inundated with asylum seekers since the start of the 2015 refugee crisis. They remain stuck in the country after Balkan countries closed their borders, blocking the migrant route to Western Europe. According to UN estimates, some 50,000 asylum seekers remain trapped in Greece, most of whom are living in overcrowded camps such as Moria.
If you like this story, share it with a friend!
You can share this story on social media: