Putin & Abe call ISS from Kremlin after Russia-Japan talks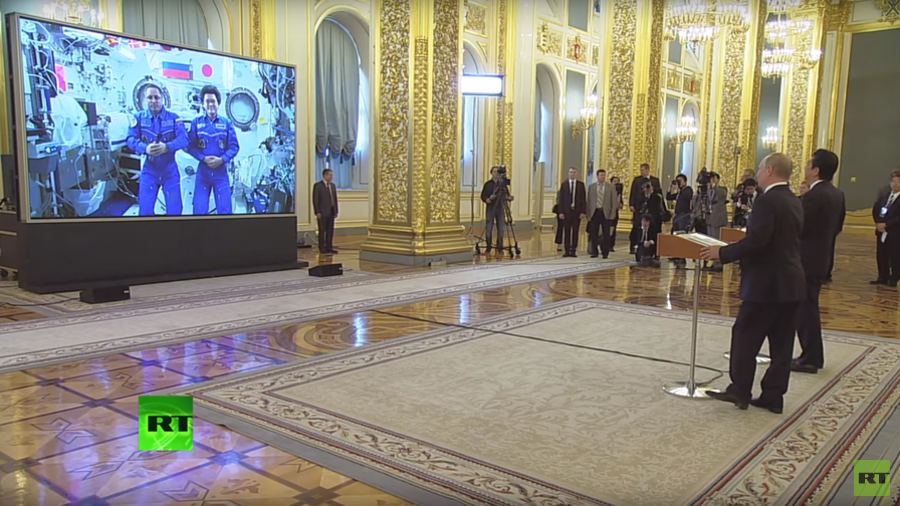 Russian President Vladimir Putin and Japanese PM Shinzo Abe held a video a call with the International Space Station after talks in Moscow, praising the level of cooperation in space between the two nations.
The link with was established right from the Andreevsky Hall of the Grand Kremlin Palace, where a large screen was erected for the call. The two leaders talked to Russian cosmonaut Anton Shkaplerov and Japanese astronaut Norishige Kanai, who are currently in orbit.
Putin told the Russian and Japanese ISS crew members that by carrying out joint experiments and dealing with problems in space they "create great atmosphere necessary for solving tasks, which we must cope with here, on Earth."
Japan is making a "significant contribution" to the operations of the International Space Station through its scientists and equipment, the Russian leader said, while Abe promised that cooperation between Moscow and Tokyo in space is "going to continue."
The Russian president noted that Russia and Japan have been working together at the ISS for a decade now and seven Japanese astronauts have visited the station since then.
You can share this story on social media: