Irish pro-choice voters rejoice as opposition to abortion vow to fight on (PHOTOS, VIDEO)
Published time: 26 May, 2018 21:07
Edited time: 27 May, 2018 08:09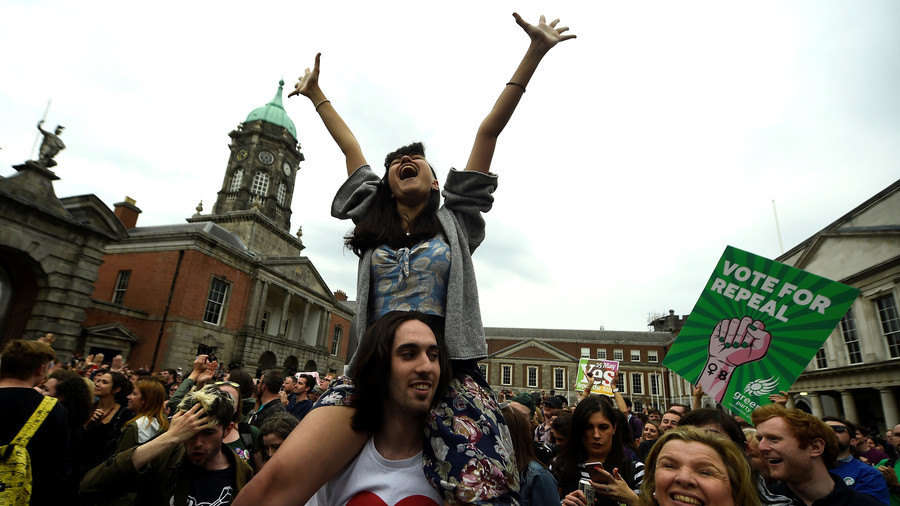 The courtyard of Ireland's Dublin Castle and social media erupted in celebration as the nation voted to repeal their strict abortion laws. Pro-life groups, however, have vowed to continue the debate that has divided the country.
More than 1,429,981 people voted in favor of ripping up the Eighth Amendment of the country's constitution in what was a divisive referendum on the island, with more than 723,000 opting to retain the clause. The 1983 amendment, which will now be removed from the Irish constitution, introduced a strict fetus termination policy viewed as an effective abortion ban.
READ MORE: 'Quiet revolution': Ireland votes to legalize abortion
The law gave equal right to life of the unborn, with due regard to the equal right to life of the mother. Pro-choice supporters argued that the clause restricted adequate healthcare and women's autonomy over their own bodies while forcing Irish citizens to seek medical care in countries like the UK, where abortion is legal.
Some pro-life groups, such as the Iona Institute, fought against the repeal on the basis that abortion is incompatible with the Catholic faith, while others were unhappy with the limitations proposed. The change now opens up the opportunity for the government to introduce legal abortions up to 12 weeks into pregnancy.
Reacting to the landslide victory on Saturday, Ireland's Abortion Rights Campaign hailed the result an"historic" moment.
"Our slogan has always been Free, Safe and Legal and we will continue to work to ensure that for everyone in Ireland who needs abortion care," the group said.
"This result is bigger than Ireland: we know the world watches us as abortion access is being eroded in other places. Ireland now has the opportunity to be a beacon to the world in terms of respect for people who can get pregnant."
Ireland's Prime Minister Leo Varadkar described the outcome as a "quiet revolution" that took place over many years.
Meanwhile, UK Labour leader Jeremy Corbyn congratulated Ireland on a "fantastic victory" for women's rights.
Social media has since erupted with images of people celebrating the referendum result.
But Irish campaigners against the changing of the constitution have said they will continue to debate the issue, despite what some have called a "sad day" for Ireland.
David Quinn, director of the Iona Institute, a Roman Catholic advocacy group, said the pro-life movement will continue despite the defeat.
Meanwhile, the anti-abortion organization American Life League joined the Society for the Protection of Unborn Children to criticize Irish voters for the decision.
"Today unborn Irish children have been stripped of their dignity and protections by a majority of the adult voting population," said Liam Gibson, spokesman for the Society for the Protection of Unborn Children.