Want to visit Germany, 'fight Nazis' & burn police cars? There's a guide for that!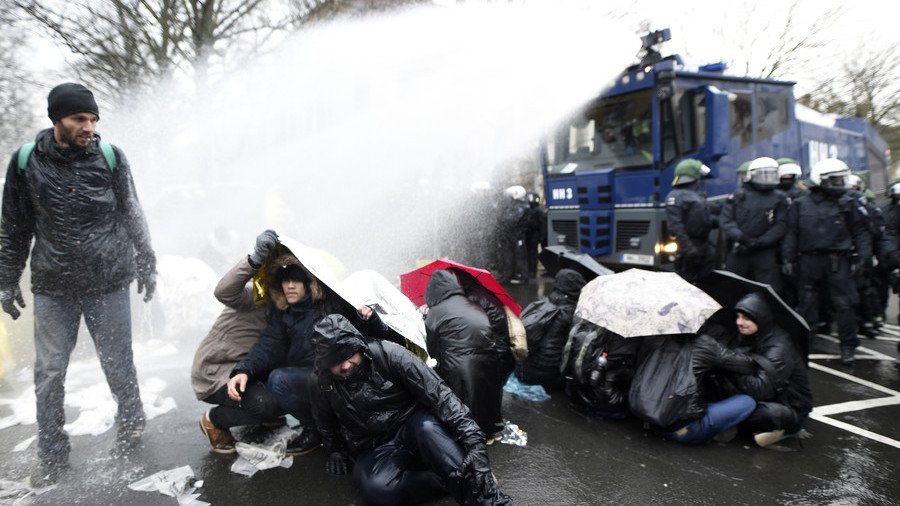 As the German right-wing party AfD prepares for a convention next month, a 44-page guide has been released for people who want to arrive at the scene and riot against them.
The printable German-language brochure and website are entitled 'Guide to Augsburg for riot tourists,' after the city in Bavaria where AfD (Alternative for Germany) plans to hold its two-day event. It's not clear who produced the guide, although some conservative news sites attributed it to radical left-wing activists, so-called Antifa.
The authors call for direct action during the gathering, saying that AfD's rise in Germany over the past few years was just a sign of a wider slide towards right-wing sympathies in society. It also claims other centrist parties are secretly playing the role of accomplice while publicly criticizing the party. They call for a "revolt" against it and call the convention a suitable occasion to exert pressure.
The guide has many of the sections one would expect from a traveler's handbook such as advice on how to get to Augsburg and a map of the area, where the venue for AfD's convention is located. It also marks potential targets for action, from hotels where the delegates are likely to stay overnight to local police stations to a restaurant linked to an AfD official.
The stated goal of the suggested riot is to disrupt the logistics of the convention through roadblocks and forms of harassment. The guide suggests what "tourists" could do in Augsburg, ranging from throwing Christmas tree baubles filled with paint to breaking glass panes to burning tires and cars in the street. As bizarre as it may sound, they also give some safety tips such as: the person who douses tires with gasoline should not set them on fire because he may get some fuel on him. The guide says: "We wish you a lot of fun trying them."
Left-wing protesters in the past targeted several AfD events, with German police on some occasions deploying water cannons and other crowd control methods. The guide forecasts that the police presence in Augsburg would be higher than the 2,000 officers announced and suggests that protesters could try to target the troops from other cities as well as their equipment during the night.
In the latest federal election in Germany AfD scored 12.6 percent of the vote and became part of the German parliament for the first time in its history. Essentially, it now represents the third-largest political force there. In February opinion polls showed that it, for the first time, surpassed the Social Democrats (SPD), becoming the second-most popular party in Germany after the Christian Democrats (CDU/CSU) of Chancellor Angela Merkel. AfD's platform is anti-immigrant, nationalist and Euroskeptic. Critics call it xenophobic and populist.
You can share this story on social media: