Ireland's historic abortion referendum: What it means for the people (VIDEO)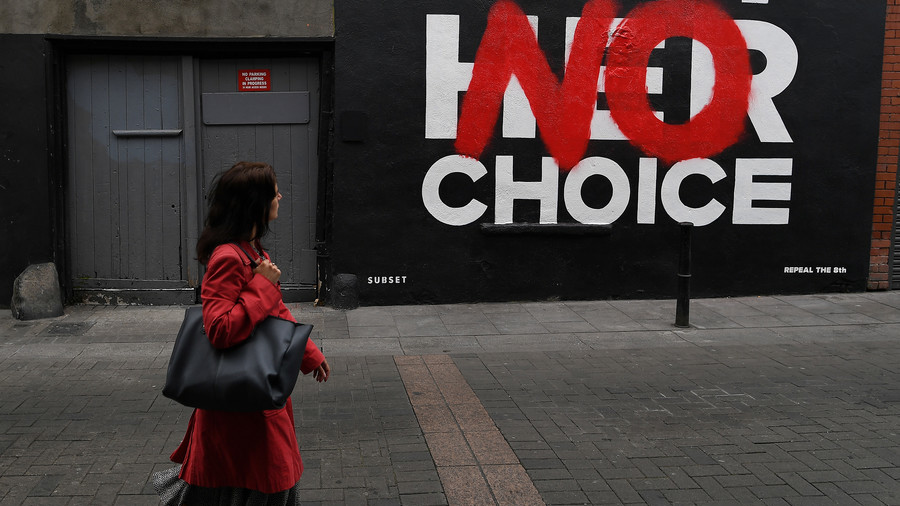 Irish citizens will take to the polls Friday to decide whether the country's abortion laws should be liberalized. It follows weeks of heated debate, much of it centered on personal testimony from many at the core of the issue.
At the forefront of the campaign has been the image of Savita Halappanavar, a 31-year-old Indian dentist who died in a Irish hospital after complications from a septic miscarriage.
Doctors denied a request from her and her family to carry out a termination 17 weeks into the pregnancy even after it became inevitable she would miscarry. After her death, Savita's husband Praveen Halappanavar revealed that medical professionals told him "this is a Catholic country," as they pleaded for an abortion.
Now almost six years on Savita's parents are urging Irish citizens to legalise abortion. "No family should have to undergo what we have to go through...I strongly feel that the young daughters of Ireland should not have the same fate of Savita," Savita's father said in a video message.
"I hope that people in Ireland will remember the fate of our daughter Savita on the day of the referendum and vote Yes so that what happened to us won't happen to other families."Savita's parents call for a Yes vote on Friday. #yourYESmatterspic.twitter.com/HejZxet1J8

— Together for Yes (@Together4yes) May 20, 2018
On May 25 voters will be asked if they want to repeal the 8th amendment of the Irish constitution – the article which gives the fetus the same right to life as a woman. As it stands the historically predominantly-Catholic country has some of the toughest restrictions around terminations in Europe.
READ MORE:1,000s of pro-life activists take to the streets of Dublin (PHOTOS)
The referendum comes 35 years after voters decided to effectively enshrine a ban on abortion in the constitution. In 1983, amid fears from pro-life activists that Ireland would follow abortion reforms in the US and Europe, a referendum was held and passed by a 66 percent majority.
Since then a number of high profile cases in which women died after being refused terminations has brought the issue to the fore, resulting in legislation allowing for limited abortion in cases where there is a risk to the woman's life, including by suicide.
If Ireland votes in favor of repealing the 8th amendment, the government has said it will introduce legislation permitting unrestricted abortion during the first 12 weeks of pregnancy. All government parties are calling for a 'yes' vote on May 25. Ireland's Prime Minister Leo Varadkar has warned that this is a "once-in-a-generation" verdict and there will be no rerun of the referendum.
Women have been sharing personal experiences of accessing abortion on a pro-choice Facebook page entitled 'In Her Shoes.' Among these are women who became pregnant from rape, women who were told by doctors that their baby would not survive after birth, and women who felt they were too young or too poor to have a child.
Women who have regretted having an abortion and parents of children with disabilities have also shared their experiences and their concerns while calling for a 'no' vote.
Among those calling for a 'no' vote is Miss C – a woman who found herself at the center of the debate more than 20 years ago when, as a child of 13 after she became pregnant after rape. Miss C was in the care of the Irish state at the time and was brought to the UK for abortion despite legal action from her parents to stop it. The woman has since spoken out about her experience, saying she didn't understand what was happening and still lives with the trauma.
The latest polls put the 'yes' vote ahead by between 52 and 58 percent. The number of undecided voters has declined, according to the polls, but still stands at between 14 and 17 percent. Voters in urban areas are expected to return a majority vote in favor of repealing the current legislation, however in rural areas the numbers expected to vote against the measure are much higher.
Only six countries in the world, including Malta in the EU, still refuse abortions to women under any circumstances. The UN's Human Rights committee has condemned Ireland's abortion laws as "cruel, inhuman and degrading."
In 2015 Ireland became the first country in the world to legalise same sex marriage by popular vote, by a substantial majority. The abortion debate, however, has been much more contentious and the vote is expected to be much tighter.
READ MORE: US interference in Irish referendum? Concerns raised over 'foreign' pro-life groups
You can share this story on social media: