Private jet from Texas splits in half on takeoff in Honduras (PHOTOS, VIDEO)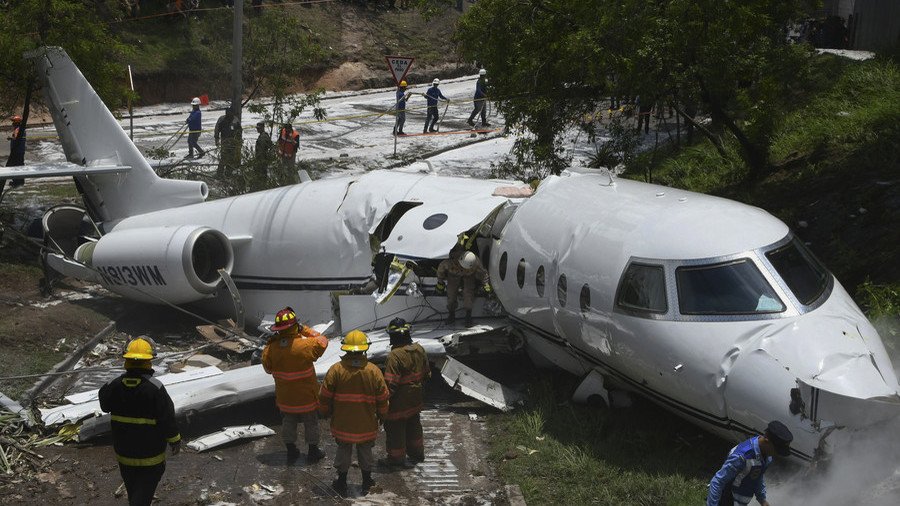 A private plane has crashed on a road in Tegucigalpa, Honduras, shortly after it took off from the runway. At least six people were injured, none fatally, with photos showing the plane being broken in half.
The Honduran Aviation Agency said that the incident took place at 11:15 am [5:15 pm GMT] on Tuesday as the plane was departing from Tegucigalpa. The plane, a Gulfstream G200 Galaxy N813WM jet, is said to have crashed at the end of a two-kilometer runway at Toncontin International Airport, known as one of the world's most dangerous airports due to its short runway and a tricky approach. The airport is located in rocky terrain and is enclosed by residential neighborhoods.
A Gulfstream G200 Galaxy N813WM suffered a runway excursion on landing at Tegucigalpa Toncontin Airport on Tuesday. The aircraft went down a slope and came to rest across a road. There were no injuries among the 2 crew and 5 passengers onboard. pic.twitter.com/5SLdfrEfVe

— Brendan Grainger (@Highflyermel) May 22, 2018
Six people were injured in the crash, police spokesman Mario Rivera said, as cited by ABC. All the injured are in stable condition. The airport temporary shut down all operations, as the authorities were making sure that it was safe to proceed with the flights.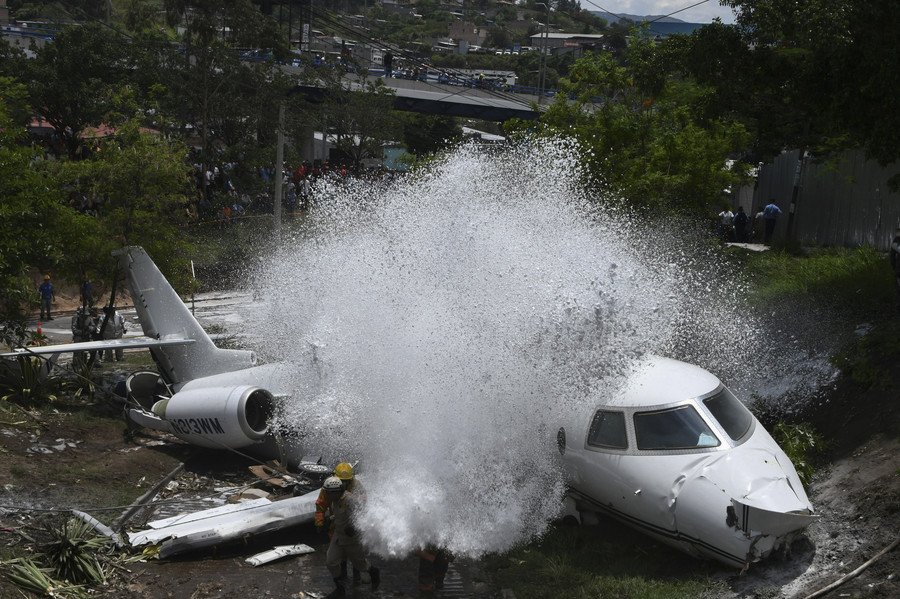 As the rescues arrived, they doused the plane with foam, although it's unclear if the fire had broken out before or after the crash. The destination of the plane and the cause of the crash are also unknown at the moment. Earlier that morning, the plane left Austin, Texas, for Honduras, according to the aviation records.
Toncontin International Airport was named the second most dangerous air haven in the world by the American History Channel's 'Most Extreme Airports' program. It has seen several high-profile mishaps through the years, with the deadliest being in 1989, when a Boeing crashed with 131 people on board. The authorities vowed to replace the airport with a new one, that would have a longer runway and would be located further away from the residential area, near a military base. The construction of the airport began in October 2016 and was initially set to be completed by mid-2018. However, the work has been plagued by delays and, according to the government's newest projections, the airport is now to open its doors in November next year.
You can share this story on social media: