Battle of the predators: Fox & eagle in death-defying duel over rabbit prey (VIDEO, PHOTOS)
Published time: 22 May, 2018 11:10
Edited time: 23 May, 2018 08:00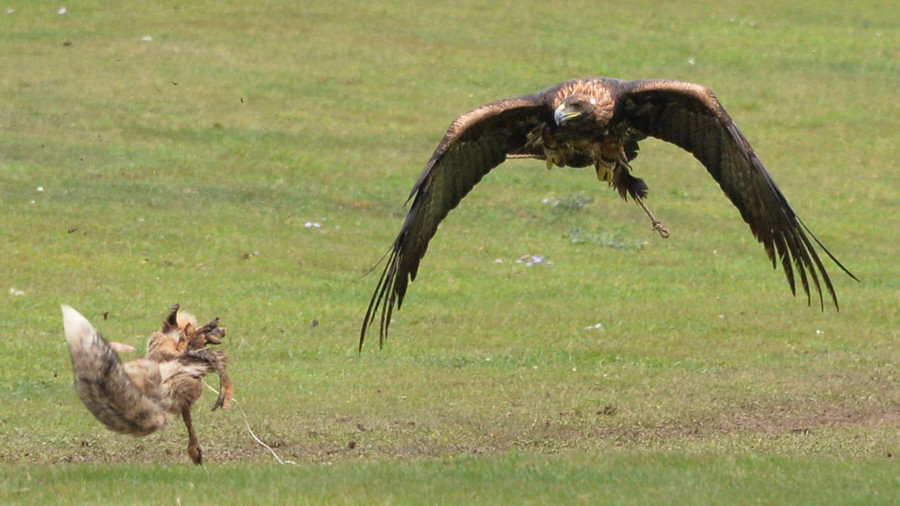 Incredible footage shows an epic battle unfold between a young fox and a bald eagle after the giant bird of prey tries to steal its rabbit dinner.
Video taken by Zachary Hartje shows the fox kit race along with a rabbit in its mouth when suddenly an eagle swoops down, voraciously grabbing at the pair. The powerful eagle manages to lift the red fox – still clutching tightly to the rabbit – clear into the air. The pair begin to duel it out in the sky.
The plucky fox appears to boldly engage in a tussle with the pilfering eagle, swinging back and forth, before it is dropped to the ground.
The dramatic incident, captured in San Juan Island in northwest Washington state, was also documented by Kevin Ebi from Living Wilderness. Ebi, who regularly photographs foxes in the area, described the moment as an "especially dramatic act of thievery."
Ebi said he thought the fox would drop the rabbit and give the bald eagle an easy dinner, but was surprised when he fiercely held onto the rabbit and prepared for battle with the bird.
According to Ebi the eagle moved the rabbit to its right talon before releasing the fox. "The whole battle was over in less than 8 seconds," he said, adding that amazingly the fox emerged from the scuffle without even a scratch.
Think your friends would be interested? Share this story!