Girl power: Fuel tanker demolished by giant haul truck driven by… a woman (PHOTOS)
Published time: 21 May, 2018 15:46
Edited time: 21 May, 2018 15:47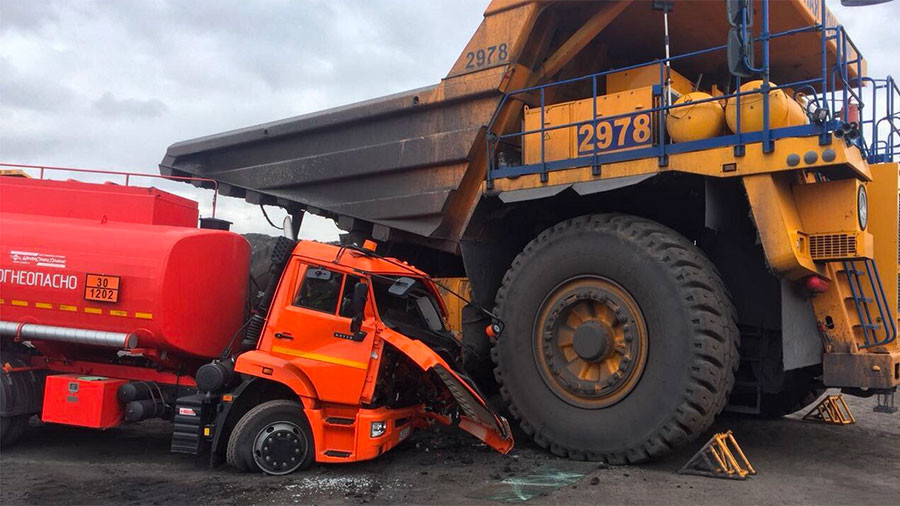 Social media was sent into overdrive after dramatic pictures surfaced showing a Kamaz fuel tanker run over by an enormous BelAz haul truck. What sparked the tart-tongued comments was the fact the BelAz was driven by a woman.
The incident happened in Russia's Kemerovo region of Siberia on Friday. The woman was driving a BelAZ – one of the world's largest, highest payload-capacity ultra-class haul trucks. It's not clear which exact type of BelAZ was involved in this accident, but some models weigh up to 360 tons.
Photos on social media show the huge vehicle smashing into another 'auto giant' – the Kamaz petrol tank truck. The latter, however, looks like 'a Lilliputian' compared to the 'Gulliver' BelAZ.
No-one was injured in the incident but the 38-year-old BelAz driver was fined – she has to pay 500 rubles ($8) for her slip-up. Police said the accident was caused by her negligence.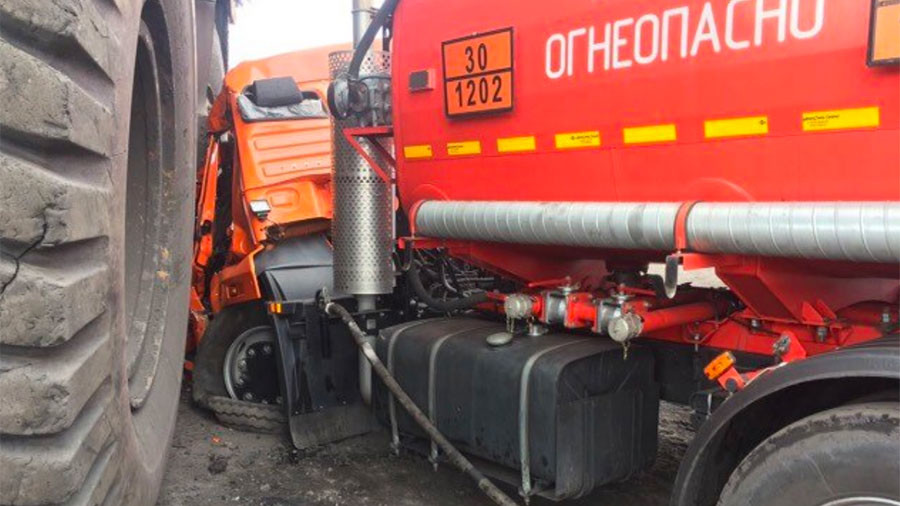 In the meantime, social media went crazy over the episode, saying that the whole situation is surreal – a woman driving an enormous truck crashing into another massive vehicle. "Attention, Kamaz drivers, don't offend girls on cars!" one woman exclaimed on the Russian VKontakte social network.
"Your BelAZ, your rules," "Girl power", comments continued.
"A woman, a BelAZ… this even sounds scary," one person noted. "Maybe she didn't notice [the Kamaz truck," one more person ironically suggested.
READ MORE: Saudi daredevil v speeding truck: Bizarre viral stunt ends in arrest (VIDEO, PHOTOS)
Some people wondered where the Kamaz driver was looking at the time of the accident. "Was he looking at the young woman behind the wheel?" one person ironically asked.
Social media users also admired the fearless Russian woman who dared to drive the 'mammoth' truck, saying that "when a woman has BelAZ, she fears no Kamaz."
Others cited a line from the famous poem by Nikolay Nekrasov who praised strong Russian women: "The Russian woman can stop a galloping horse and enter a burning house."
Think your friends would be interested? Share this story!