Yemen's Houthis claim 'Saudi base' strike as Riyadh says it intercepted missile fired at 'civilians'
Published time: 20 May, 2018 00:28
Edited time: 21 May, 2018 09:32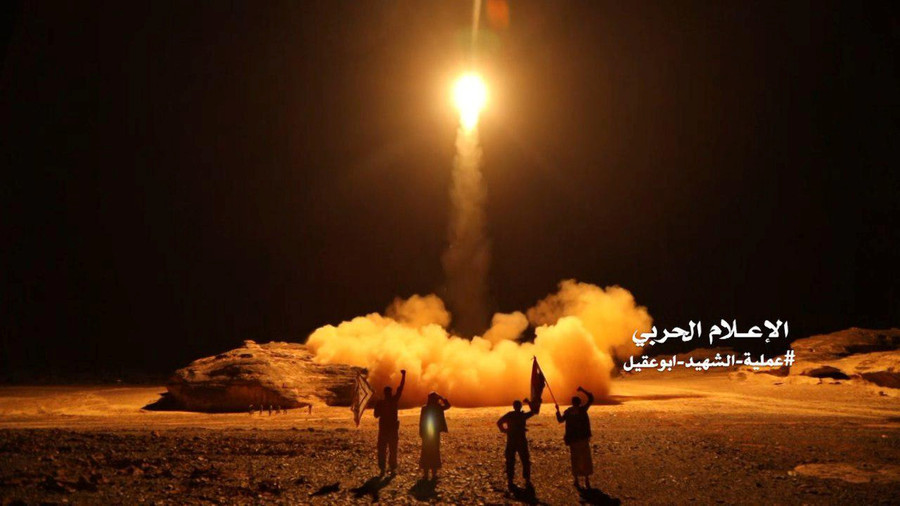 Saudi Arabia has managed to intercept a ballistic missile launched from Yemen at a "civilian area," according to the Arab coalition. However, Houthi rebels claim that a Saudi military base was successfully targeted in the strike.
Two ballistic missiles were fired from Yemen into Saudi Arabia on Saturday evening, allegedly targeting Khamis Mushait, a city in the southwest of the country, the coalition forces announced. One of the projectiles was reportedly destroyed by Saudi air-defense systems, while the other fell short of its intended target.
"No casualties were reported," a spokesman for the Saudi-led coalition, Col. Turki Al-Malki, said in a statement, carried by the country's official SPA news agency. "Launching ballistic missiles at densely populated civilian areas is a direct breach of the principles of the international humanitarian law."
Meanwhile, Houthi forces in Yemen confirmed firing a single 'Bader-1' solid fuel ballistic missile, which they claim targeted a Saudi military and radar base in Khamis Mushait. "The missile hit the target precisely," Houthi military officials said in a statement, according to Yemen's Saba news agency.
This is not the first time that the Houthis have targeted their northern neighbor, which has been waging a brutal military campaign in Yemen since March 2015, trying to restore former president Abdu Rabbu Mansour Hadi to power. All of the previous ballistic missile attacks, including Saturday's incident, have been blamed on Iran, which Riyadh says is responsible for supplying weapons to its 'proxy,' Yemen. Tehran continues to deny any involvement in the attacks.
"This hostile act carried out by the Iranian Houthi militia proves that the Iranian regime is still providing the terrorist Houthi armed militia with qualitative capabilities... with the main objective of threatening the Saudi Arabian, regional and international security," Al-Malki said in the statement.
READ MORE: US Green Berets covertly helping Saudi Arabia in Yemen – report
The three years of Saudi-led bombardment and blockade of Yemen has led to the near-collapse of the country. Some 22 million people, or 80 percent of the Yemeni population, are in need of humanitarian aid, while more than half of the country is left without basic medical services.
The UN officially has documented 15,467 civilian casualties, including 5,974 deaths and 9,493 injured, according to February figures. The Yemeni Ministry of Human Rights, however, places the number much higher, claiming that the Saudi-led campaign has left around 600,000 civilians dead and injured. Human rights groups have repeatedly accused the coalition of indiscriminate airstrikes, while criticizing the US and UK for supplying arms to Riyadh.
If you like this story, share it with a friend!