Spend on schools or bow to US demands? German politicians debate NATO strategy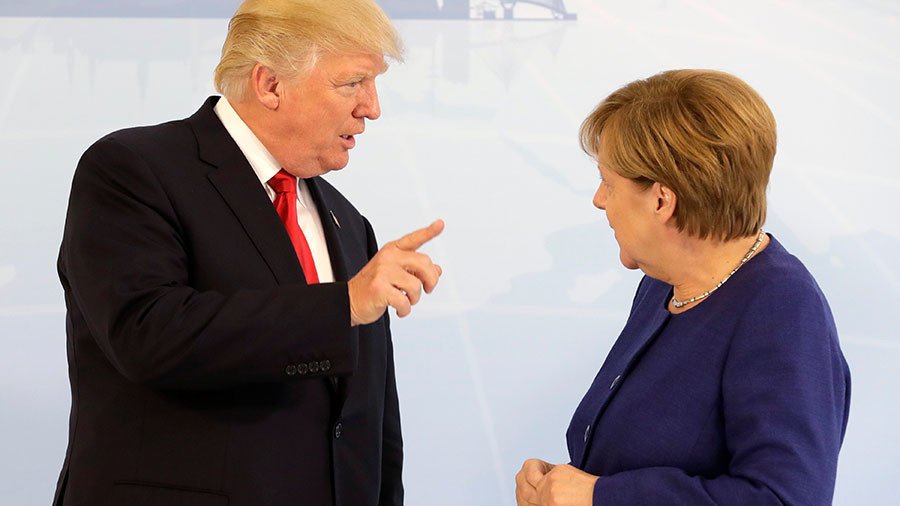 US President Donald Trump has accused Germany of not contributing enough to the NATO budget – but will German Chancellor Angela Merkel dance to Washington's tune?
Politicians on both sides of Germany's political spectrum shared their views with RT.
On Thursday, Trump warned NATO members that they will be "dealt with" if they fail to fulfill their financial obligations to the US-led military alliance. Germany was singled out as one of those said to be delinquent on their obligations.
Speaking to RT, Martin Dolzer of Die Linke (Left Party) said that buying into Trump's ideas may send the world order "into chaos," citing US policy in the Middle East as evidence. Dolzer stressed that Germans do not want war, and said that more vital issues should be on agenda instead of boosting military spending.
"The German population does not want any more military expenses, the German population needs money for kindergartens, for education, for the growth of civil society organizations and the social sector," Dolzer said. "There has to be a change. And the people in Germany, I think most of them want this change, but the government does not follow it."
Though Merkel has shown no interest to raising defense spending, Alternative for Germany (AfD) chief whip Hansjorg Mueller believes she is poised to "bend down before the wish of the big brother" – a reference to Trump and the US.
"Our government is the government of a vassal state and governments of vassal states always obey to the wish of the big brother," Mueller said.
Mueller believes a rise in defense spending would only further split German society, which is already divided over the chancellor's immigration policy, and significantly weaken Merkel's position. "We are viewing the doom of her leadership over Germany," he told RT.
Apart from its reluctance in meeting Washington's demands, Berlin is also at odds with its ally over the Nord Stream 2 gas pipeline from Russia to Germany. The US is opposed to the project and signaled that it might be targeted by sanctions. The measures could also affect German companies.
The situation with the project is "pure blackmail," said Mueller, adding that he hopes Merkel does not give in the "dead-end game."
Meanwhile, Dolzer believes the pipeline is necessary for stability. "If we want to have stable organization of the industry this is very, very necessary to build this Nord Stream pipeline and to not follow the sanctions," Dolzer said, adding that the US government must be reminded that it cannot act like "a monopoly power" around the globe.
Think your friends would be interested? Share this story!
You can share this story on social media: