New ICBM in 2020, hypersonic glider in 2019: Putin outlines nuclear deployment plans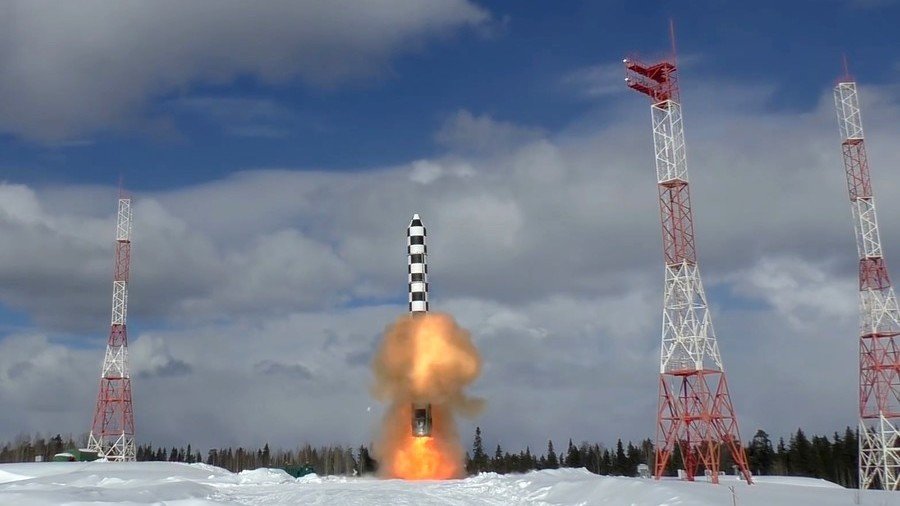 The Russian military is expected to deploy the Sarmat ICBM in 2020 and the Avangard hypersonic glider warhead in 2019, according to Vladimir Putin. He described both weapons as essential for future nuclear deterrence.
The deadline for the deployment of the two weapon systems was confirmed by the Russian president on Friday during a meeting with defense officials and contractors – the first such meeting since the reshuffle of the Russian cabinet earlier this week.
READ MORE: Hypersonic nukes & missiles of unlimited range: Newest additions to Russia's arsenal (VIDEOS)
The Sarmat is Russia's future silo-based intercontinental ballistic missile, which will replace the ageing Voyevoda ICBMs. The new weapon is said to have extended range, which allows such missiles to reach US territory from the south, where they cannot be stopped by anti-ballistic interceptors deployed in Alaska.
The Avangard is a nuclear warhead, which can glide through the atmosphere at hypersonic speeds that make it virtually impossible to intercept with modern and near-future technologies. The Sarmat is expected to carry Avangard gliders.
Both weapon systems were showcased by Putin in March during a key policy speech. He said they and several other weapons currently in development in Russia make American ABM systems incapable of reducing Russian nuclear deterrence in the foreseeable future. He said this means that Washington's decades-old effort to tip the strategic balance with Russia in America's favor has failed.
Like this story? Share it with a friend!
You can share this story on social media: