Ukrainian court orders 60 days' detention for chief of Russian-linked news agency amid outcry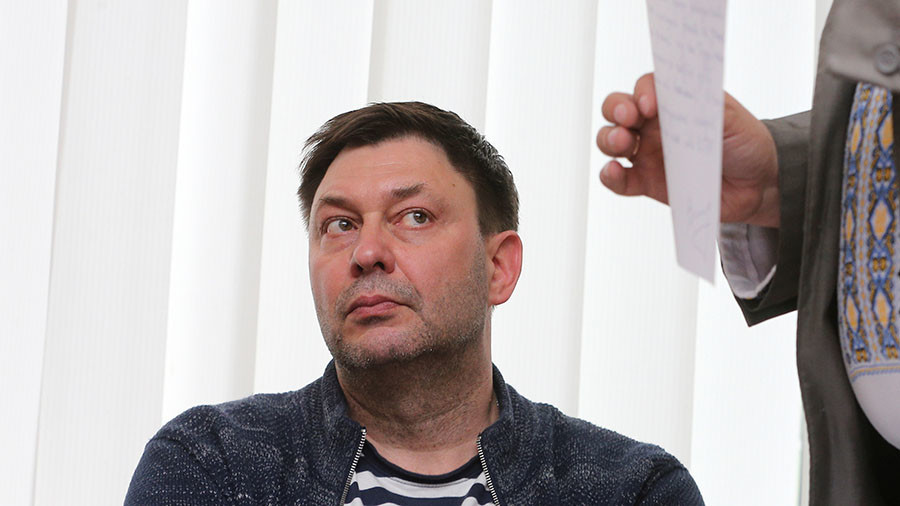 The head of the Russian-linked RIA Novosti Ukraine news agency, Kirill Vyshynsky, who was held on treason charges in Ukraine, will spend the next 60 days in detention, a court in Kherson ruled on Thursday.
Vyshynsky has been handed "60 days without bail," Andrey Donamsky, the journalists lawyer, said. The defense urged the judges to come up with any other preventive measure than the arrest, but the court decided to fulfill the demands of the prosecutors.
The ruling by the court will be appealed at the Kherson Regional Court, Donamsky said. "There are grounds to contest this decision and cancel it. My defendant believes that this is a political, but not a judicial ruling," he said.
During the hearing, a Ukrainian prosecutor said that the journalist is accused of treason for "providing a foreign state help in carrying out its activities in Ukraine."
Vyshynsky "spoke in favor of changing the state borders of Ukraine and promoted the creation of a new country, Novorossiya, with a capital in Donetsk on the territory of Ukraine in order for it to be united with Russia," he claimed. The prosecutor also provided several articles, published by RIA Novosti Ukraine, saying that they were proof of charges against the agency's head.
Read more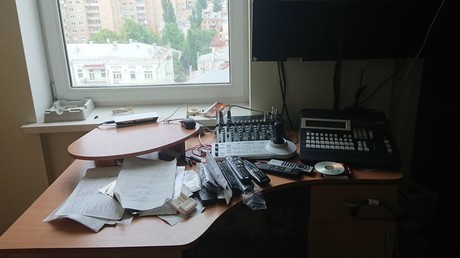 In his speech to the courtroom, Vyshynsky hit back, saying the charges were "direct pressure on freedom of speech in the country." He said action against him by the Kiev authorities was carefully planned, pointing out that the press-conference on his arrest by SBU took place simultaneously with the search at his apartment, while photos of the search were immediately leaked to the media by the law enforcers themselves.
The journalist also said that none of the articles mentioned by the prosecutors as incriminating were prepared by RIA Novosti Ukraine's editorial staff as they were all published in the opinion section and had the author's name under them.
There were initially conflicting reports about Vyshinsky's citizenship, but the journalist told the judges that he holds both Ukrainian and Russian passports. The news agency head was granted Russian citizenship back in 2015, Russia's Investigative Committee confirmed.
Kirill Vyshynsky was detained in Kiev on Tuesday and taken to the southern city of Kherson, while his apartment and the homes of some of his colleagues, as well as the agency's offices, were raided by Ukrainian Security Service (SBU) agents.
Vyshinsky's arrest was met by an outcry from international human rights groups, with the office of the UN High Commissioner for Human Rights saying it "is concerned about the increasing numbers of attacks against media professionals in Ukraine."
Rachel Denber, the deputy director for Human Rights Watch in Europe and Central Asia also urged Kiev's Western backers in the US and EU to put pressure on the Ukrainian authorities to ensure maximum transparency in the case.
READ MORE: Traitor, terrorism apologist… valuable hostage: Ukraine's blatant crackdown on news agency chief
An action in support of Vyshinsky was scheduled to take place in front of the Ukrainian embassy in Moscow midday on Friday.
RT's Editor-In-Chief Margarita Simonyan was among those, who supported the silent protest and invited people to take part. "It's hard to believe that such a wild witch-hunt on journalists, who are just doing their job, is even possible, particularly in Europe," Simonyan told RIA-Novosti.
Treason and journalism shouldn't be mixed' – Vyshynsky's wife
The wife of Kirill Vyshynsky has shared details of her husband's arrest with Ruptly news agency and said that she couldn't understand Kiev's accusations against him. Irina Vyshynskaya talked to Ruptly in Kiev, saying that she arrived in the Ukrainian capital shortly after learning of – what she called – "a kidnapping" of her husband.
Read more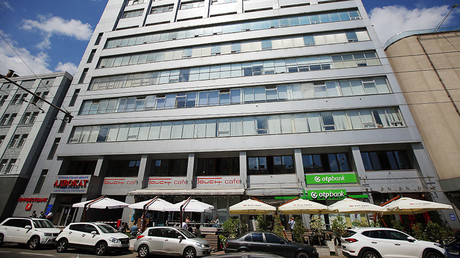 "I'm concerned with my safety" while staying in Ukraine, she said. "I am a sane person and I understand, in what type of country I'm in now."
The woman said she learned about the detention of her husband on the internet. "I tried to call Kirill on the phone, but there was no reply," she added.
Vyshynskaya said she then got in touch with her husband's driver, who told her that the arrest of the journalist occurred "in the morning, at a parking lot. People in civil cloths – there were five of them – approached my husband, grabbed him, put him in a car and drove off. "
She also said she wasn't officially informed of the arrest by any of the Ukrainian agencies and that she has been unable to contact Kirill since his arrest.
"I don't understand the accusations against my husband – because I can't understand how treason and journalism can be mixed together," Vyshynskaya concluded.
Like this story? Share it with a friend!